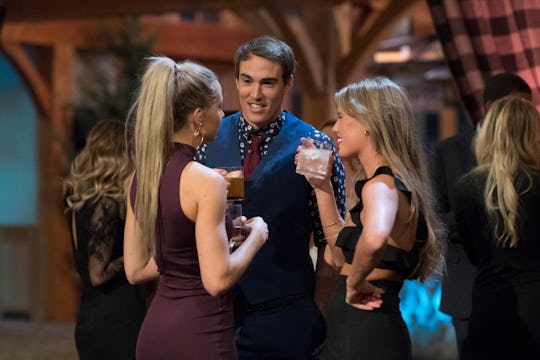 Lorenzo Bevilaqua/ABC
The Future Of Courtney & Lily's Relationship After 'The Bachelor Winter Games' Remains Unclear
The Bachelor Winter Games is not just about getting some of the world's favorite reality stars together in one house to do winter sports. It, like every other Bachelor show, comes with the goal of someone eventually coming out affianced, and someone does! While a lot of the other couples have been getting the most screen time, I have my eye on a certain Aussie and his Kiwi girlfriend. That's right, I want to know are Courtney and Lily engaged after The Bachelor Winter Games? Well they definitely could be, but they're not giving anything away.
First things first, here's what we know so far about the Winter Games engagement. It's happening at the World Tell All special, meaning it's after everyone has gone home and hopefully spent a little more time with their newfound significant others. Courtney's from Australia and Lily's from New Zealand, so those places are technically close enough together for them to have hung out, right? (I'm terrible at geography, don't @ me). We also know that the woman who gets engaged wears a very slender gold ring on her pinky finger. I haven't seen Lily wear such a ring but to be honest I haven't been paying that much attention to her fingers. Frankly, the show has barely given her any air time.
So knowing all of that, the next step in Bachelor engagement sleuthing (in which I am a third degree black belt and Ph.D. holder) is to stalk everyone's social media pages. What I've learned from Lily's Instagram is that it is a crying shame that she was shown so little on the show because she is actually so much fun. Just look through some of her photos of you'll see what I mean. I love her.
Important note, Lily has also posted a few photos with Bibiana's Winter Games boyfriend, Jordan — or, as Lily calls him, "Satan himself." So... does this mean we're about to see a switcheroo in the boyfriend department? Jordan does have the advantage of also being from New Zealand. All that Lily has positively said on the subject to Entertainment Tonight is that "there is someone still in the equation." Hmmmmm.
Well let's move on to Courtney's Instagram. Unfortunately, Courtney's posts are even less revealing than Lily's. So far, I can assure you that Courtney likes giving thumbs up exactly as much as you would expect him to (i.e. a lot). I can also positively deduce that he is great with children (judging on the plethora of photos with kids he's posted) and that he has been back home in Australia for at least some time.
The only post recently that I can gather contains any hint of his relationship status is captioned, "Nothing like a good sunset hike to revive the soul." Wait, why does your soul need reviving, Courtney? The post stated his location as Runyon Canyon Park in California, and Chris Harrison did say that one couple was going to go through a terrible breakup. Could it be that Courtney and Lily are the couple that doesn't make it through the games unscathed?
I am perhaps unreasonably nervous for the future of this couple, because I have a sneaking suspicion that they are actually the most fun people in the house — no offense to Ashley I. who is my one true love. I guess we'll all just have to wait and see who gets the ultimate prize — a diamond ring the size of my face from Neil Lane.
Check out Romper's new video series, Romper's Doula Diaries:
Watch full episodes of Romper's Doula Diaries on Facebook Watch.