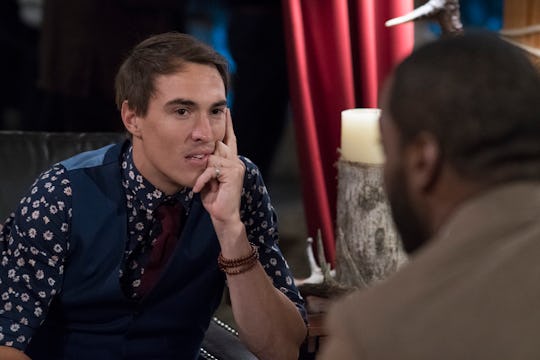 Lorenzo Bevilaqua/ABC
Courtney & Lily Are Inseparable On 'The Bachelor Winter Games'
Unfortunately, this is the last week for The Bachelor Winter Games — but that means Bachelor Nation finds out what happens with all these couples sooner rather than later. Two people that are pretty cozy are Courtney and Lily, but is their relationship built to last? Are Courtney and Lily still together after The Bachelor Winter Games? They both hail from the Southern Hemisphere — Courtney from Australia, Lily from New Zealand — and they were attracted to each other pretty quickly.
Just because they have similar backgrounds, though, doesn't mean they'll last. This is evident by the fact that most couples just on the U.S. Bachelor franchise shows don't last too long. But will Courtney and Lily beat the odds?
Before The Bachelor Winter Games began, I had a feeling Lily and Jordan would be a solid couple. Not only are both of them from New Zealand, but they were hanging out before the show according to Lily's Instagram. Regardless, that's not what happened. Like several couples during the games — like Dean and Lesley and Luke and Stassi — Lily and Courtney gravitated towards each other quickly, perhaps because of the closeness of their home countries. Seeing as how fast these relationships develop, I'm curious about what they're up to now, and I'm probably not the only one in Bachelor Nation that's curious.
Lily addressed The Bachelor Winter Games (and Courtney) in an interview with Entertainment Tonight. When asked about her relationship status she said, "I can confirm there is someone still in the equation!" Hmmm. She was also asked about Jordan because not only was she hanging out with him before they went to Vermont; they were apparently hanging out afterwards as well. ET asked Lily about Jordan and she said, "I think so highly of the man and we live in the same country, so we're going to hang out. I can't confirm or deny anything, but either way I think highly of him."
That's also pretty interesting. So Lily is mum about her relationship status and exactly where she's at with Jordan. She elaborated further about the fact that she's not exactly single: "People go into these things thinking, 'I'm going to find love,' but I've always been realistic." What happened on The Bachelor Winter Games, however, made her change her tune a bit. She continued, "I'm fussy, independent and don't feel I need to be with someone, so to go in and actually find someone is like, 'Wow' We get along so well and we're so similar."
Lily is herself surprised she found love on the show. "I'm not gooey-centered at all, so for me to be saying all this … I'm gobsmacked," she told ET. "I'm constantly surprised by what this weird love cult TV show can do for me!" She was also asked about a long distance relationship, to which she responded, "This weird international aspect of the show is a good test for how much people really like each other because they've got this huge challenge ahead." Now, she could be talking about other couples here, or she could be talking about her and Courtney.
This would make more sense than her and Jordan because they live in the same country, and let's be real: New Zealand's population is 4.7 million, nowhere near the Unites States' 300+ million. If she was with Jordan, I don't think she'd talk about long-distance relationships. Lily also joked about kissing Courtney on Twitter:
That could go either way — plenty of couples joke about this, but so do people-who-aren't-exactly-couples. I admit, I'm loving their relationship, so I'm rooting for Lily and Courtney. The only good thing about the Winter Games ending so soon is that Bachelor Nation will find out what happens this week.
Check out Romper's new video series, Romper's Doula Diaries:
Watch full episodes of Romper's Doula Diaries on Facebook Watch.