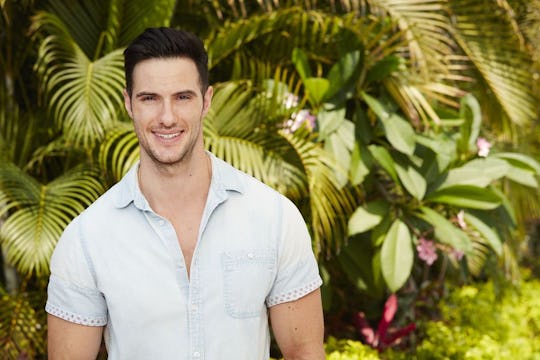 Craig Sjodin/ABC
Are Daniel & Chad Still Friends After 'Bachelor In Paradise?' The Show Is More Than Love
Bachelor in Paradise is officially underway, and while it's possible that none of the romantic relationships that blossom in front of the cameras will last, "The Chad" Johnson and Daniel Maguire might just have formed a friendship that could outlast any of the Bachelor marriages. Chad hasn't shown himself to be super great at making friends, but he sure has found a rock-solid companion in Daniel, at least on the show. But many a Bachelor romance fades once the couple must go on living their lives in the real world. Are Daniel and Chad still friends after Bachelor in Paradise?
Jimmy Kimmel asked "Bad Chad" whether he and Daniel were still friends when he interviewed him via Skype on an enormous screen. Chad responded that he and Daniel actually message each other every day. Personally, I'm going to go ahead and consider this proof that people can find love on this show, even if it's not exactly how they always expect. For example, remember how Jason Mesnick dumped his season's winner Melissa on the After the Final Rose special and picked the runner-up Molly, instead? Chad and Daniel's connection was strong right from the get-go, and certainly stronger than either of their connections to JoJo.
In the Bachelorette mansion, almost all of the men were ecstatic to see Chad leave, except Daniel. The two bonded right away, and seem to have formed a real friendship. They share a love of protein powders, weight lifting, themselves, and misogynistic comments. While Chad has rightfully gotten the most negative attention for mocking a disabled contestant and calling Lace a "whore," but Daniel has had his share of gross comments, too, including saying the women were "nothing he'd like to touch," comparing them to "stray dogs" and saying that women should be "succulent and juicy" but the ones at the resort look like "they'd been bruised in transportation." Nice.
Sadly, Chad ended up getting sent home for his truly vile behavior, so the budding romantic friendship between these two dudes will have to pick up after the show, or at least as soon as Daniel gets sent home. Actually, considering his comments, that could be any day now.