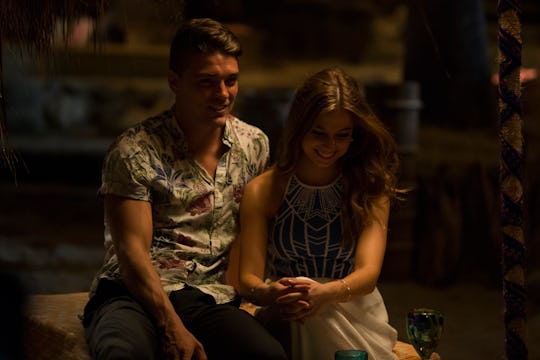 ABC/Paul Hebert
People Are Already Rooting For Dean & Kristina On 'Paradise'
Bachelor in Paradise may be a part of the Bachelor franchise, but it's a completely different format. Despite former contestants coming back to get down and dirty in Mexico, there's no one lead that everyone is fighting for. This means that many different couples arise, some sooner than others. Perhaps the first couple to emerge from this season – from the very first episode – is Dean and Kristina. Kristina received the first date card, and she decided to bring Dean along...but do they last? Are Dean and Kristina dating after Bachelor in Paradise? They had a great first date.
In case viewers aren't up to date on their Bachelor knowledge, Kristina and Dean are from the latest seasons of The Bachelor and Bachelorette, respectfully. While Kristina did not reach hometown dates like Dean did with Rachel, she definitely made an impression on Nick. Kristina and Dean gravitated towards each other early in the premiere, primarily because of the hardships experienced because of their home life. Kristina was adopted from Russia, while Dean's mother passed away and his father was distant afterwards. This seemed to bond them, so much so that when Kristina received the first date card, she offered it to Dean.
As expected, the two hit it off on the date. They ate dinner together and then danced to Mexican music while confetti fell; it was clear they were smitten by the end of the date. The next morning, Kristina commented that the date went well. Considering that Paradise typically films in less than three weeks, it's possible that Dean and Kristina remain together for the short amount of time – and may even be engaged by the end of the show.
Are Kristina and Dean still together? It's definitely possible – especially given Dean's recent Instagram post. It featured Kristina (okay, and Jorge the Bartender) and discussed the Paradise premiere. Seeing as Jorge left soon after filming began, it's safe to say that the photo was taken towards the beginning of the shoot. If they broke up, Dean may not have wanted to share that photo. Of course, a photo on social media doesn't mean much, but in Bachelor Nation it could matter more than usual. Viewers will have to see if Dean and Kristina make it out of Paradise together, but it seems safe to have high hopes for now.