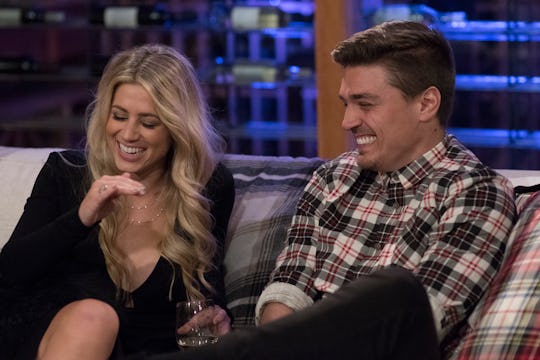 Lorenzo Bevilaqua/ABC
Dean Unglert & Lesley Murphy Could Become Your Favorite 'Bachelor Winter Games' Couple
The great thing about Bachelor Nation is that if you fall in love with a contestant, there's a good chance that person will show up at one point or another on a spinoff. Until, of course, that person starts seriously dating someone else from Bachelor Nation, which is never not amazing to watch. So if you've been keeping tabs on former faves Dean Unglert or Lesley Murphy, you may be wondering: are Dean and Lesley dating after The Bachelor Winter Games? The contestants apparently met while filming the show, and if the rumors are to be believed, they've kept their love connection going even after the show wrapped up.
Because he enjoys keeping us guessing, Dean has not confirmed or denied his relationship with Lesley, so far, but it definitely looks as though the two of them are in some sort of relationship. Dean competed on Rachel Lindsay's season of The Bachelorette and was sent home after the hometown dates. He then came back for Bachelor in Paradise where he lost a fan or two for his disastrous love triangle between Kristina Schulman and Danielle Lombard. Dean tried to keep them both around, even though he had already started something with Kristina. In short, he was clearly trying to have his cake and eat it too, which was not a good look for him.
As for Lesley, she hasn't made an appearance on Bachelor in Paradise, and disappeared somewhat from the reality show dating circuit since she competed on Sean Lowe's season of the show. Now that she took part in Winter Games, it's possible that she and Dean have officially fallen in love. Maybe this time next year we'll be celebrating their wedding in front of a live audience while it's being officiated by Chris Harrison, as all Bachelor weddings seem to be. I just hope that Lesley watched last season of Bachelor in Paradise and knows what she's getting herself into.
While Dean has not confirmed the relationship, Us Weekly reports that the two were spotted holding hands, hanging out, and generally looking extremely cuddly at the Sundance Film Festival. I daresay they were even "canoodling" though I'm not entirely positive I know the precise definition of "canoodling." When asked directly about Lesley, Dean refused to say anything specific about their relationship or whether or not it was actually happening. However, his giggles say a thousand words.
In an interview with Christina Garibaldi from Us Weekly, every time she asked him about Lesley, Dean exploded into adorable giggles, while still refusing to straight up answer the question. I have to admit, this looks like an admission that the two are together.
Obviously because the series hasn't aired yet and we don't know how the short season will end, the competitors cannot reveal who won what or who got together or if any of the relationships survived the experience. Dean did admit that he thought Lesley won something for skiing, saying that he remembered her being a very good skier, though that was about it.
Lesley made the news last spring for undergoing a double mastectomy when she learned that she was at high risk for developing breast cancer. She even shared photos of her journey on her Instagram page. Clearly, she has not allowed the procedure stop her from trying to find true love. And what better place to find true love than a small town where you compete in winter athletics and try to win dates? I honestly don't know. What I do know is that I am officially interested to see how this relationship develops. I'd really like to be a fan of Dean again.
Check out Romper's new video series, Romper's Doula Diaries:
Watch full episodes of Romper's Doula Diaries on Facebook Watch.