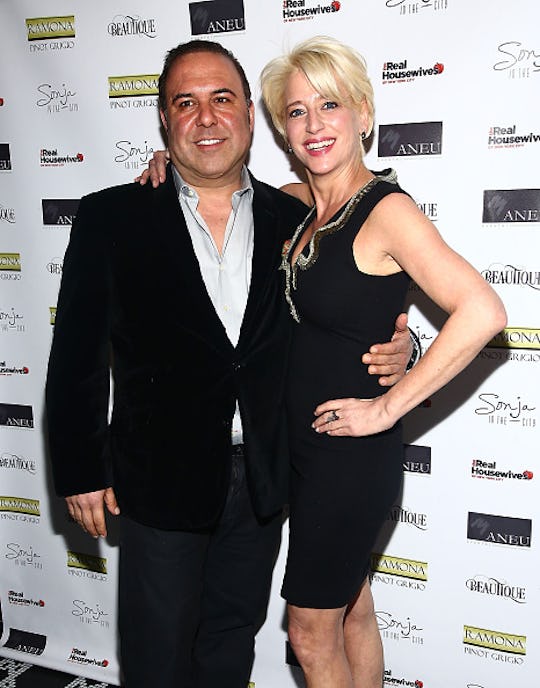 Astrid Stawiarz/Getty
Are Dorinda Medley & John Still Together? The 'Real Housewives' Couple Is Still In Love
Couples come and go on the Real Housewives series. But, since joining the Real Housewives of New York franchise, Dorinda Medley has been going strong with her boyfriend John, despite comments, looks, and shade from other women on the show. But, things are getting difficult for the two this season on the show, as the cast has never been more critical. So, are Dorinda Medley and her boyfriend John still together?
The short answer is yes, if Instagram has anything to say about it. John (Stain Sultan) John has been one of the most polarizing characters of all of the New York ladies' boyfriends and/or husbands. And, considering some of the men the Housewives have dated throughout eight seasons of this craziness, that is no easy feat.
John and Dorinda first met through Dorinda's deceased husband, Richard, Dorinda revealed in an interview with OK! Magazine. They both belonged to a small club in New York City, where they would run into one another from time to time and have a drink. According to the interview, after six months after Richard passed, John and Dorinda ran into one another, and decided to get lunch. The friendship that developed later became romantic and the rest, as they say, is history. John is known in New York City as the owner of Madame Paulette, the dry cleaning and restoration house well-known for catering to the incredibly rich and famous. Madame Paulette's client list includes a host of household names including Anna Wintour, the fashion house Chanel, and the MoMA museum.
From the looks of things, their bond hasn't been shaken a bit, despite the drama the two are set to face this season on the show. As we can see in pictures, the two are still happily in love, and carousing around town.
The two recently celebrated an anniversary together, after four years of knowing one another. Dorinda shared this affectionate picture on her Instagram to celebrate the occasion.
Dorinda and John celebrated Easter Sunday together in the city. John posted these photos of his "beautiful girl."
It looks like Dorinda and John have weathered the storms and stayed strong in their relationship together, though from the looks of things, the union has not been without its fair of drama. Page Six articles from the summer say that John kicked Ramona Singer out of a party he threw, and the teaser trailers on Bravo promise all sorts of other misunderstandings and screaming matches. Perhaps the real question here is, are Dorinda and Ramona still friends?