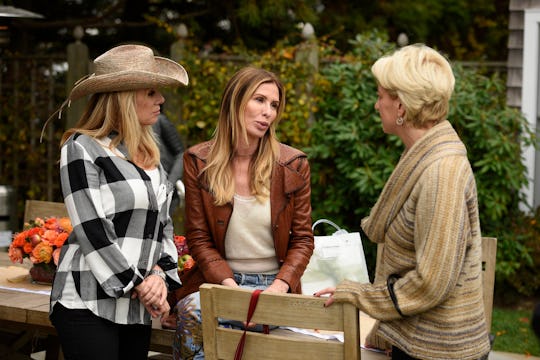 Matthew Eiseman/Bravo
Are Dorinda Medley & Ramona Singer Of 'Real Housewives' Still Friends? It's Complicated
Very few folks love a psychic medium more than the Real Housewives of New York cast. On the Season 8 episode "Tipsying Point," yet another medium intervenes in the spiritual lives of the Housewives and it winds up opening the door for Dorinda Medley and Ramona Singer to continue their bickering. So are Dorinda and Ramona friends on Real Housewives of New York? The fuse on their drawn out fight does get relit when Ramona shows up late to the medium party.
There has been some contention amongst the group regarding Dorinda's boyfriend and it looks like things come to a head during the medium reading. It looks like Ramona strolls in right in the middle of Dorinda's reading, and, in her oblivious Ramona way, comes crashing through everyone's conversation. Dorinda is visibly annoyed, since she was feeling a real connection with her spirits. But she shushes Ramona, who eventually pipes down. Later, when the medium admits that she doesn't think Dorinda and John will get married, Ramona, back at it again with the blurting oblivion, lets slip a "Thank god!"
Dorinda, who is already irked, shoots back, "You think that's nice? Mario. Oh right, he left you for someone else."
Dorinda wrote in her Bravo blog when Ramona first blabbed the Viagra story in front of everyone:
"Ramona broke my heart simply and purely. It was disgusting and heart wrenching. It was wrong of Ramona to say it and just plain stupid for her to believe it in the first place. For Bethenny to suggest that Ramona's clueless is just as ignorant as her own actions were arrogant. If either of them TRULY had my back, they wouldn't grandstand in front of strangers and ruin the evening by humiliating me the way they did. Especially if they barely have a clue about my real relationship."
But it seems like the pair did eventually reconcile. Five days after her blog went live, Dorinda and Ramona had this tweet exchange:
Dorinda added in her most recent blog:
"Listen, people make mistakes, and it is so important not to look at the parts but at the whole. I still value my relationship with Ramona and consider her a sister, but within that bond, I need her to be my confidant my protector. I need her to be my vault. And sometimes that means she needs to rise to the occasion and have my back. She knows better now, I think."
Considering it's Ramona who we're talking about knowing better, that's a very cautious "I think." But, when it comes down to it, the two have been friends for some time, and it's nice to see that they'll still be there for each other through thick and thin, even if things get complicated.