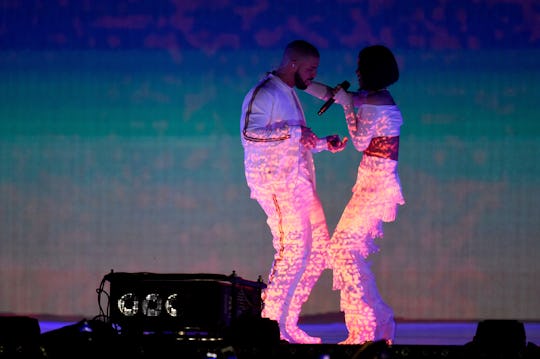 Ian Gavan/Getty Images Entertainment/Getty Images
Are Drake & Rihanna Dating? Fans Are Rooting For The Two Stars
Drake and Rihanna are the will they/won't they couple of hip-hop music. One can never be sure if they're actually dating, hooking up, friends, or just two artists that make good music together. With the release of not one, but two singles together this year, fans can't help but wonder are Drake and Rihanna dating...again? As is the case with most celebrity couples it's hard to know for sure. These two aren't that open about their relationships and private life, so it's hard to figure out what exactly is going on between these two.
Back in July, E! News exclusively broke the news that Drake and Rihanna were dating once again. According to their source, Drake never stopped loving Rihanna and supposedly it was Rihanna who wasn't ready to settle down. However, once they started to make music together again and spend time with each other, those old feelings came flooding right back and now the on again/off again couple is back on. Then again, that was back in July so things could've changed since then. But for now, maybe we can just believe they're still happily together?
The two were a topic of discussion a lot this summer. They were spotted hanging out multiple times in London and Drake made a surprise appearance during Rihanna's concert in Manchester in June. Since then, they haven't really been spotted together, but with Rihanna set to receive the MTV Video Vanguard Award at the VMAs, fans have begun to speculate that Drake will make an appearance.
It would be absolutely amazing and adorable if Drake was the one to give Rihanna the Vanguard Award, but him just being their to support her or perform with her would be pretty awesome, too. Either way, we're ready for a Drake and Rihanna reunion, so here's to hoping it actually happens. Just imagine all the after parties they could go to together and all the videos Rihanna could post to Snapchat. (As we all know, Drake's secret Snapchat has yet to be discovered.) My shipper heart can barely handle all the possibilities.
Make sure to tune into MTV for the VMAs on Sunday, August 28 at 9 p.m. ET to see Rihanna receive the Video Vanguard Award, and maybe there will be a special appearance from October's Very Own.