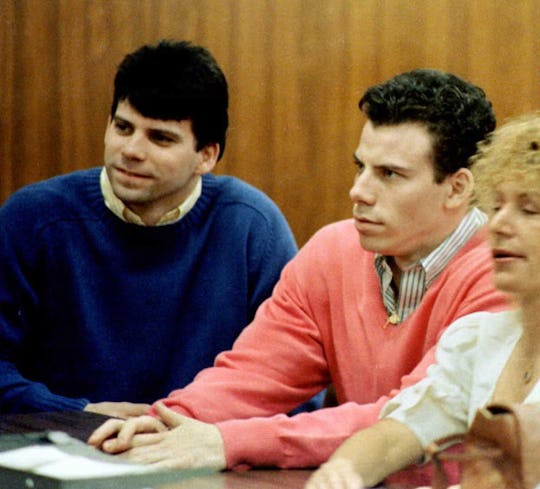 MIKE NELSON/AFP/Getty Images
Erik & Tammi Menendez Are Still Going Strong
Erik and Tammi Menendez found love in a hopeless place. Only two years after Erik and his brother, Lyle, were sentenced to life in prison for killing their parents, Erik married his pen pal, Tammi Ruth Saccoman. Viewers will probably learn more about this marriage in ABC's new documentary, Truth and Lies: The Menendez Brothers - American Sons, American Murderers, but they won't have to wait to watch the documentary to find out if Erik and Tammi Menendez are still married. In a recent interview with People magazine, Erik happily confirmed the couple are still together even after all of this time.
The couple's love story began when Tammi sent a letter to Erik during his first trial, which Erik said made him "feel something." He decided to write her back and they continued to correspond, first as friends, which then grew into something more. After Erik was convicted, he and Tammi lost touch and during that time her husband committed suicide. When the two of them started writing to each other again, they were able to bond over their shared pain of loss and grew much closer.
Tammi and Erik met for the first time, after years of correspondence, in August of 1997. For Erik, it was like love at first sight. "I was nerve-wracked about meeting Tammi. Once I did, I knew right away that I could fall in love with her," Erik told People. It turned out Tammi felt the same way.
The couple began their relationship soon after and Tammi moved to California with her daughter, Talia, to be closer to Erik. The couple mainly keep in touch through 15-minute phone calls and Tammi visits whenever she can. Tammi and Erik have now been married for almost 20 years and although their relationship is definitely unconventional to say the least, it seems to work for them. Erik credits Tammi and Talia for helping him stay positive while in prison and facing the fact that he will be there for the rest of his life.
"My day-to-day existence is about trying to maintain contact with Tammi," Erik said in the same interview with People. "I can't think about the sentence... I just haven't come to terms with it."
You can find out more about Erik and his brother, Lyle, during Truth and Lies, which will air on Jan. 5 at 9 p.m. ET on ABC.