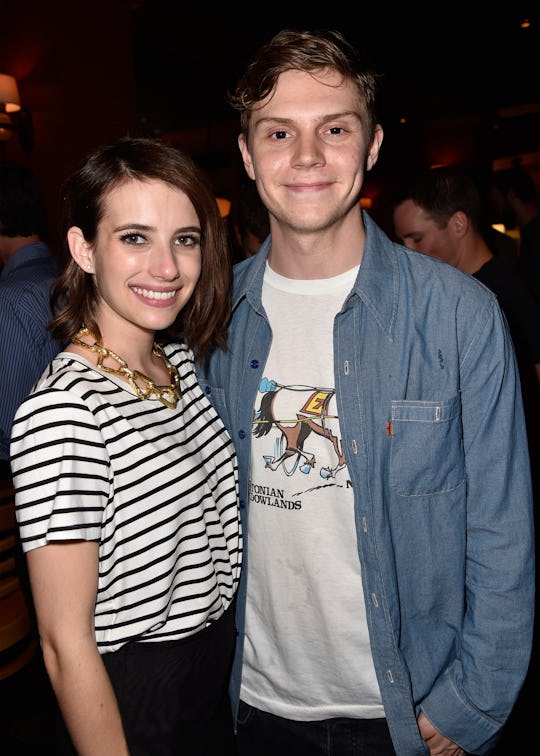 Frazer Harrison/Getty Images Entertainment/Getty Images
Are Evan Peters & Emma Roberts Together? The Former 'AHS' Co-Stars Might've Reunited
Hollywood romances among actors are notoriously tumultuous – and it's no surprise, given the tendency to run into your ex repeatedly at awards shows and even on set. That must totally suck, right? But among the most shocking splits (*cough* Brangelina divorce *cough*) and equally shocking reunions in recent memory, few other celebrity relationships have matched the rollercoaster-y nature of Evan Peters and Emma Roberts' on-again, off-again romance. But are Evan Peters and Emma Robert together once again? It appears that they might be.
You can be forgiven if you forgot (or just totally missed) the fact that Roberts and Peters had even broken up to begin with. The two long-term lovebirds have split up and reunited several times over the years, allegedly having a notoriously "volatile" relationship.
The actors and Ryan-Murphy-faves initially started dating in 2012, after filming the movie Adult World, the first of several projects they co-starred in together. Peters actually clarified, in a 2014 interview, that the two had met prior to Peters signing onto that project, with Roberts encouraging Peters to audition for his role in that film, but did not begin dating until after the movie had wrapped.
Peters might have later returned the favor. He began appearing in American Horror Story during its debut season in 2011, and Roberts won a major, fan-favorite role as Madison Montgomery in the third season of the anthology series, "Coven," later appearing in the fourth season, "Freak Show," as well. Roberts later transitioned over to another Ryan Murphy show, Scream Queens, beginning in 2015.
The couple then remained together for three years, but those first years of their relationship weren't without incident, despite appearing as love interests in both seasons in which they shared the American Horror Story screen.
In July 2013, Roberts was arrested on domestic violence charges after the two were allegedly heard loudly arguing in their Montreal hotel room. Only Roberts was taken into custody because, according to records, only Peters had visible injuries. Roberts and Peters didn't break up in the aftermath of that event.
A joint statement released later that month called the domestic violence episode "an unfortunate incident and misunderstanding," noting that the two were "working together to move past it." Later that same year, the two got engaged, remaining so until June 2015, at which point they called off the engagement. They briefly reunited by August of last year, before calling it quits again in May 2016.
It seems as if history is repeating itself once more, because there have been rumors since late August of a reconciliation between the pair, after they were spotted attending a friend's party and, later, on a casual iced-coffee-and-bagels date earlier in September. Now, Us Weekly is reporting that sources close to the AHS lovebirds say that the two have reunited once more, after Roberts was briefly linked to Christopher Hines after splitting from Peters this summer.
It's unclear what effect the on-again-off-again nature has on their various American Horror Story and Scream Queens appearances, if any at all. Roberts returned to her starring role as Chanel Oberlin in the most recent season of Scream Queens. Peters has yet to appear in the latest installment of American Horror Story (much to fans' consternation), but has a confirmed role in the "Roanoke"-themed season. Roberts didn't appear in American Horror Story: Hotel last season, but there are unconfirmed rumors that she might appear in the latest season – perhaps even crossing over as her Scream Queens character, Chanel Oberlin.