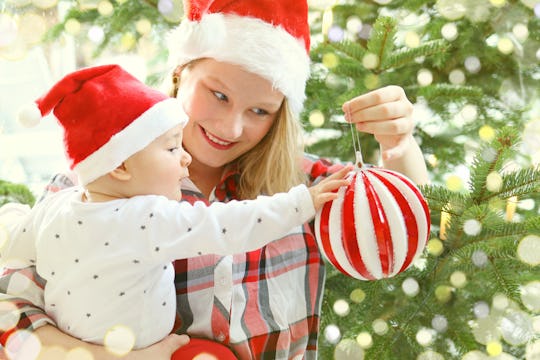 tiagozr/Fotolia
What Experts Really Want You To Know About The Safety Of Fake Christmas Trees
I'm not one for seasonal decorating. I'm about to have my fourth kid for crying out loud, I don't have brain space to be staging pastel bunnies in April. But the one time of year I do exert that precious energy is Christmas. The tree is obviously central to all decorating efforts, and we've always picked out a live one as a family. But this year those fake trees are looking pretty good — no needles to sweep, no watering, no allergies. But with a newborn on the way I'm wondering, are fake Christmas trees safe for babies?
Deemer Cass of Fantastic Christmas Tree Delivery tells Romper in an exclusive interview that both live and artificial Christmas trees have their pros and cons, and families have to weigh which choice is right for them. When it comes to the particular consideration of having a baby in the house, moms and dads might make a different choice than they would have pre-kids.
Fake trees are appealing, Cass acknowledges, in that they are cheaper in the long run, convenient, and mess-free. The last point is not only an aesthetic concern but, for parents with crawlers or toddlers, a potential safety point as well. Families with babies who are in an inquisitive stage might enjoy knowing that their little explorer won't be trying to swallow any rogue pine needles from the floor.
On the other hand, Cass points out, there are some legitimate downsides to artificial Christmas trees as well. "Artificial Christmas trees aren't biodegradable and can't be recycled," Cass explains. "You might think you're helping the environment by not buying a freshly cut fir tree, but you're wrong." In addition to there being no way to responsibly dispose of a fake tree, Cass says that the making of it is just as unfortunate. "In order to make a fake Christmas tree, companies often use polyvinyl chloride (PVC). It contains various toxic compounds which can irritate the nose, eyes, and lungs. They also contain lead which is another chemical that can cause irritation."
I was personally wondering whether artificial trees might be the more environmentally responsible choice, so it surprised me to hear that fake Christmas trees may not be completely safe to have in the home. Parents inevitably have a wide variety of opinions on the concerns of toxins like PVC; the same information will greatly distress one family while another will shrug it off as unavoidable life in the world today. But educating ourselves to make an informed decision we're comfortable with is always an important move.
One big factor on a lot of families' minds during the holidays is the increased risk of fire that comes with having a tree in the home, especially one decked out in electrical lights. When it comes to live trees, we know that the longer they are left up, the more they dry out and thus the more flammability increases.
But Cass says that artificial Christmas trees are also extremely flammable. "They are practically plastic and everybody knows how fast it can burn," he points out. "Some fake trees have a label that claims they are fire-proof, but they can withstand a fire for a limited amount of time. After that, they burn like a torch."
So are fake Christmas trees safe for babies? It would seem there is not a one-size-fits-all answer for every family. Both artificial and live trees come with their respective pros and cons, and parents have to weigh them all against their own family concerns and convictions to determine which choice is right for them. Perhaps neither option can dispel all your worries, but then, there's eggnog for that.
Check out Romper's new video series, Romper's Doula Diaries:
Watch full episodes of Romper's Doula Diaries on Facebook Watch.