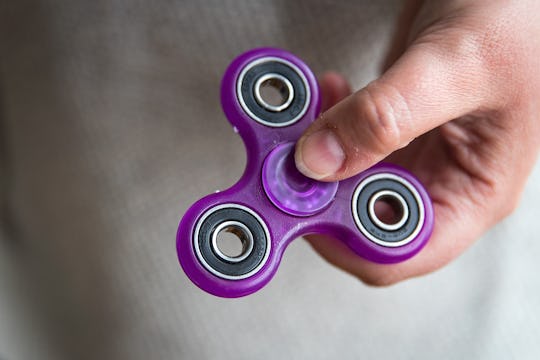 Drew Angerer/Getty Images News/Getty Images
Are Fidget Spinners Dangerous? Some Moms Request A Recall
Some mothers, along with a child safety advocacy group, say fidget spinners should be recalled and should be required to have a choking hazard warning as well. The question is: are fidget spinners dangerous, and why? Several moms are claiming that they are, and they're sharing some pretty scary stories to back up their allegations.
According to The Daily Courier, out of Arizona, fidget spinners are devices made up of three to eight prongs that spin around a bearing in the center pad. When the pad is pinched between someone's finger and thumb, the spinner, well, spins. And according to BuzzFeed, Kids In Danger (KID) — a nonprofit organization committed to protecting children by improving the safety of children's products — and several mothers are warning that the popular toys can cause injuries to kids who use them.
Live Science reported that fidget spinners are marketed "as an antidote for attention deficit hyperactivity disorder, anxiety and autism." But whether the gadgets actually help with anxiety or to get kids to focus is disputed. And the craze has really taken off with kids who do not have any of those concerns as well. But now, just as the fad is really blowing up, parents are warning that these popular toys might have hidden dangers.
BuzzFeed reported that Johely Morelos, a 23-year-old mom in Albany, Oregon, showed her son the story of a Texas girl who went to the hospital after choking on a detachable part of her fidget spinner toy. But apparently he wasn't paying enough attention, or was acting like most kids and not thinking through the dangers of something like this, because as Cayden was playing with a fidget spinner while with a babysitter, he was able to get a part loose from the toy and put it into his own mouth.
When Cayden was taken to the Morelos' local hospital, staff there couldn't remove the part from his chest, and he was transported to a hospital in Portland to get the disc surgically removed there instead. Following two hours of surgery, Cayden woke up with just a swollen lip and sore throat, and his mother said the next day that he was back to normal. But she's still calling for the toys to be recalled and given a choking hazard warning.
The story out of Texas that Morelos showed her son was likely that of Kelly Rose Joniec's daughter Britton. According to TODAY, Britton landed in the emergency room after accidentally swallowing part of the toy, and she too had to have surgery to remove a fidget spinner part.
According to that outlet, Joniec wrote about the scary moment she realized her daughter was in trouble on Facebook. She reportedly said:
Looking back in the mirror, I saw her face turning red and drool pouring from her mouth — she could utter noises but looked panicked so I immediately pulled over.
She pointed to her throat saying she'd swallowed something, so I attempted Heimlich but there was no resistance. She said she'd put part of her fidget spinner in her mouth to clean it and somehow swallowed it.
Joniec is now also warning other parents how dangerous the popular gadgets can be. "Kids of all ages may be getting them," she wrote in her post, "but not all spinners come with age-appropriate warnings...keep in mind that these present a potential choking hazard."
A spokesperson for the Consumer Product Safety Commission, Scott Wolfson, reportedly told BuzzFeed that the agency is following up on Britton Joniec's case, as well as additional cases of kids swallowing the loose discs from the toys.
Health.com reported that fidget spinners are sold by various companies, and their product labeling can differ, which means there is no one company who oversees all fidget spinner production. Catherine Hettinger is credited as the person who invented fidget spinners, but liability for any danger that results from faulty manufacturing would fall on manufacturers and the companies behind production — not to Hettinger.
Some online listings for the products have choking hazard warnings, but many don't. Romper reached out to one popular fidget spinner producer, Zekpro, about allegations that fidget spinners can cause harm, but had not received a response as of publication. As there are so many producers, it's not easy to ask them all whether the products are safe, unfortunately.
Any toys marketed to children have to comply with federal small parts regulations, which require manufacturers to put labels on products that can be choking hazards — which could include fidget spinners.
A quick perusal of Amazon shows that none of their 10 top-selling fidget spinners have a choking hazard warning in the product descriptions as of Wednesday. And the little devices are all over the place — all kinds of stores and online retailers have them in stock, in an attempt to capitalize on their popularity.
Monitoring children's play with fidget spinners is probably a good idea for parents, at least if their children are very young. Plus, Cowles told BuzzFeed, parents can test the toys at home by dropping the toy on the ground before their kids start using it, to see if any small parts can easily come loose and potentially be a hazard.
To report an incident with a fidget spinner that caused injury, go to that SaferProducts.gov File a Report page. While there, it might be a good idea to search for other toy recalls and reports, just to be safe.