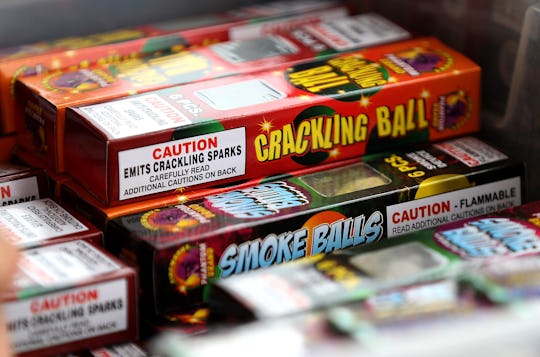 Justin Sullivan/Getty Images News/Getty Images
Here's What You Need To Know About Lighting Fireworks In Georgia This 4th Of July
So you live in the great state of Georgia and, in fine Southern fashion, are plotting an epic 4th of July celebration next week. You've invited friends, planned the barbecue menu, and even picked up some new red, white, and blue shirts for every member of the family. Now it's on to the fun part: Planning the fireworks. But the more you think about it, you begin to second guess yourself. Are fireworks legal in Georgia? Every state is different, and you've never thought to look it up. Is this the end of your Independence Day extravaganza?
According to the state of Georgia's official website, private citizens definitely can purchase and shoot fireworks — but only certain kinds. (You knew there was going to be one of those conditions, right?) Those labeled consumer fireworks, which have been tested and regulated by the Product Safety Commission, are just fine to set off on private property. Professional, or display fireworks, require a federal license to purchase and use. (And maybe like... a professional fireworks person.)
The list of consumer fireworks that can legally be purchased in Georgia is a lengthy one: Bottle rockets, sky rockets, Roman candles, Firecrackers, Sparklers, Smoke and Punk, Fountains, Missiles, Novelties, Crackle and Strobe, Parachutes, Wheels and Spinners, Sky Flyers, Display Shells, and Aerial Items (Cakes). Surely that's enough to satisfy even the most passionate fireworks enthusiast.
In Georgia, the legal age for purchasing fireworks is 18. While there is no stated minimum age for lighting them, Georgia's website states that most firework accidents occur with minors under 16. Children are at the highest risk between the ages of zero to 4, mostly because adults assume that sparklers are appropriate for this age bracket. Surprisingly, that's not really the case: 79 percent of fireworks injuries experienced by kids under 5 are due to sparklers, which can reach a whopping 2,000 degrees, the website noted.
The second age bracket at highest risk for injury is preteens between the ages of 10 to 14, presumably when they consider themselves old enough to take matters into their own hands. With these statistics in mind, parents would be wise to take note and enforce some serious parameters for children who are itching to give it a whirl. Shooting and watching fireworks is a blast, but the thrill is never worth compromising the safety of our kids.
Speaking of safety — and legality — the state of Georgia's website also points out that it is illegal to light fireworks under the influence of drugs or alcohol. Even if you don't expect to get tipsy, its best practice to appoint a designated fireworks lighter for the evening in much the same way your group would appoint a designated driver. Its just smart planning. (Seriously. Nobody wants to burn off a finger here.)
With all seriousness and sober warnings aside, how about some good news about fireworks and the 4th of July? In the state of Georgia, a 5 percent sales tax on fireworks goes toward the state's trauma care network. These funds provide valuable training and equipping for Georgia firefighters, giving back to the safety of the whole community. So while you're enjoying your personal fireworks display, you're simultaneously supporting the courageous public servants of the state. Talk about a win-win.
Now that you are well-armed with knowledge of the ins and outs of shooting private fireworks in the state, you can now run wild with your plans for the 4th of July party of your dreams. May your hot dogs be juicy, your beer cold, your swim refreshing, and most of all, may your fireworks be safe. Happy 4th of July, Georgia!