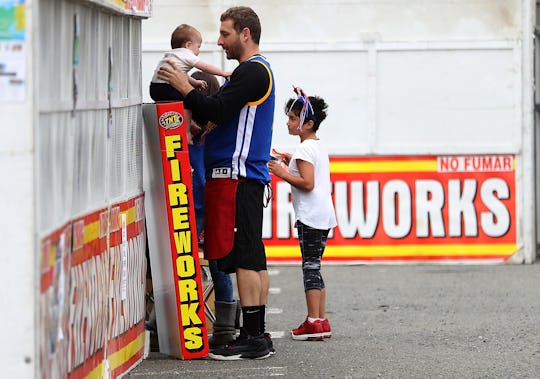 Justin Sullivan/Getty Images News/Getty Images
Backyard Fireworks Aren't Totally Banned In New Jersey — Here's What's Allowed
Thinking of July 4th, we picture backyard barbecues, picnics on the beach, hanging with friends, and after the sun goes down, fireworks. Some families light the night waving around sparklers, some blast bottle rockets on their driveways, and others find a spot to watch grand displays light up the sky. While some states allow consumers to buy and use of fireworks, others ban them. Still other states allow some types, but not all. As you plan your festivities, if you live in the Garden State it's good to know if fireworks are legal in New Jersey, or if you need to go to a neighboring state if you want to enjoy a some explosive fun in your own backyard this holiday.
In 2017, then Governor Chris Christie signed a law that allowed people who are 16 and older to buy and use hand-held and ground-based sparklers, party poppers, and snappers. However, U.S News and World Report reported that, "all other fireworks will remain illegal in New Jersey including all explosive and aerial fireworks such as firecrackers, sky rockets and bottle rockets."
A town or organization can't just decide to do a big fireworks show in New Jersey, they need to get the proper permits. As Lehigh Valley Live said, these permits apply to "public display of fireworks by municipalities, religious, fraternal or civic organizations, fair associations, amusement parks, or other organizations or groups of individuals." Lehigh Valley Live, which covers Pennsylvania and New Jersey, talked about the differences in laws between the two states. They actually have similar limits to what you can and can't use, but it's legal to sell the higher level explosives in Pennsylvania, with the understanding that you need to go somewhere to use them where it's legal. It's very likely that in Pennsylvania, as well as the neighboring states, they are sold and then used surreptitiously. That's not a great idea as Lehigh Valley Live reported that the fines for doing this illegally in New Jersey could top $500.
Why do Americans incorporate fireworks into their Fourth of July celebrations? The tradition actually goes way back to one of our Founding Fathers, John Adams. In a letter to his wife Abigail on July 3, 1776, Slate reported that Adams wrote of an independence celebration and that he envisioned doing it, "with Pomp and Parade, with Shews, Games, Sports, Guns, Bells, Bonfires and Illuminations from one End of this Continent to the other from this Time forward forever more." Sure enough, at the first Independence Day celebration in 1777, the skies above Philadelphia were lit up, including 13 bottle rockets to start and end the display, according to James R. Heintz, a researcher at American University. Heintz also found that while in the late 1770s and early 1780s more and more celebrations encompassed firework displays, both New York and Charleston banned them out of concern for fire.
It's this caution that is likely behind the restrictiveness around using fireworks in New Jersey and around the United States. The National Fire Protection Association reported that, "In 2013, fireworks caused an estimated 15,600 reported fires in the U.S., including 1,400 structure fires, 200 vehicle fires, and 14,000 outside and other fires" with more than a quarter of the firework-caused fires reported between 2008-2013 occurring on July 4th. Theses stats don't even start to deal with injuries that are caused by fireworks. The United States Consumer Product Safety Commission found that, "on average, 250 people a day go to the emergency room with firework related injuries in the month around the July 4th holiday."
Given that danger, it makes sense that New Jersey and other states want to protect their citizens and restrict the use of these devices. So for now, if you need a little kaboom in your holiday celebration in New Jersey, you need to limit it to sparklers, party poppers, and snappers. Which should be as much explosiveness as you need.