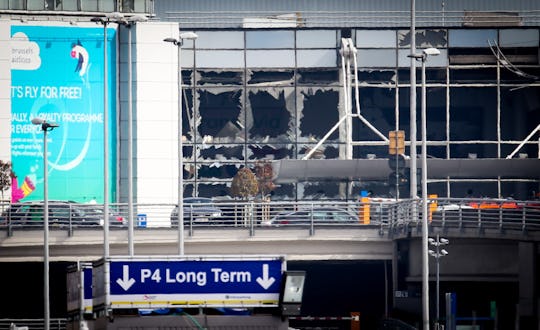 VIRGINIE LEFOUR/AFP/Getty Images
Are Flights Canceled After The Brussels Attacks? The City Is On Pause
In the hours following Tuesday's horrific terrorist attacks in Brussels, flights are canceled, along with train travel, and...well, pretty much all of Brussels is being put on freeze right now while officials take stock of the possibility of additional attacks, and continue to evaluate just how much damage has been done. Brussels' Zaventem Airport was rocked by multiple blasts at around 8 a.m. local time.
(Update: ISIS has claimed responsibility for the terror attacks in Brussels Tuesday.)
The Belgian capital was hit by reportedly hit by three explosions; two near Brussels' main airport and a third at a subway station near Maalbeek, a suburb near the city. According to CNN, initial reports so far tell of at least two dozen killed with over 130 more injured.
While it's early and details are still coming in, Belgian federal Prosecutor Frederic Van Leeuw told CNN that at least one of the attacks was a suicide bomber. While the attacks occurred on the heels of the arrest of Salah Abdeslam, a man who authorities say was involved in last year's Paris attacks, in Molenbeek, another Brussels suburb, Belgium's Prime Minister maintained to reporters on Tuesday that it was too soon to speculate on whether or not these attacks are connected to Abdeslam's arrest.
As could reasonably be suspected after any terrorist attack — let alone one where a city's primary air travel hub itself was targeted — all air travel has been suspended until further notice.
Additionally, rail travel to and from Brussels has been suspended until further notice.
More to come...