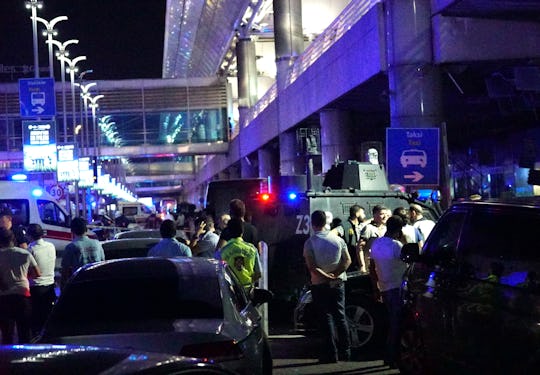 Getty Images/Getty Images News/Getty Images
Are Flights To Istanbul Cancelled? The Ataturk Airport Attack Has Passengers Worried
On Tuesday, multiple attackers detonated at least three suicide bombs at Turkey's largest airport, killing at least 28 people, with some news outlets reporting up to 50 casualties. As security swarmed the airport and emergency workers tended to the large numbers of wounded, many flights to Istanbul Ataturk were canceled. Flights scheduled to leave the airport were halted, while many others en route were diverted to Izmir or Ankara.
Update, 7:17 p.m. ET: Istanbul's governor says at least 31 people were killed in the Istanbul Ataturk airport attack, and at least 60 were wounded, according to the Associated Press. Authorities believe there were three suicide bombers.
The attack occurred at the airport's entrance. According to the New York Times, a Turkish government official said that the airport security fired shots at two of the three suspected attackers, attempting to stop them from reaching the security checkpoint. In response, the attackers detonated their bombs and blew themselves up. One of the attackers reportedly also fired an automatic weapon.
In the aftermath, as the death toll continued to rise and the wounded, numbering at least 60, were rushed off to hospitals in taxis, the roads leading to the airport were closed off, with CNN Turk reporting that the airport itself went into lockdown. A visit to the airport's web page, which is only showing flight information at the moment due to the heavy site traffic, reveals that flights for the next few hours are delayed, with many international departures cancelled altogether.
BBC's Turkey correspondent Mark Lowen had flown into Ataturk, which is one of the busiest airports in Europe. He landed around the time of the attack, and tweeted that passengers were being temporarily kept inside their planes.
As for flights which had already left the airport and were heading toward the United States, ABC News reports that precautions are being taken, saying:
At the time of the attack, 10 flights were airborne inbound to U.S. destinations from Istanbul's Ataturk Airport, all were Turkish Airline flights. U.S. officials said they were in the process of determining exactly how to handle them, but it is expected that those planes will be isolated once they land and then searched, according to the senior U.S. official. Only then will passengers and luggage be allowed near the airport terminals.
While no group has yet claimed responsibility for the attack, a Turkish official talking to the Associated Press suggested that evidence pointed to the Islamic State. This bombing is the latest in a string of attacks Turkey has suffered this year, with some claimed by the Islamic State and others by a Kurdish military group.
The world has been far too brutal in recent weeks, and it's horrifying to hear of yet another attack. Thoughts and condolences go out to all those affected by the violence.