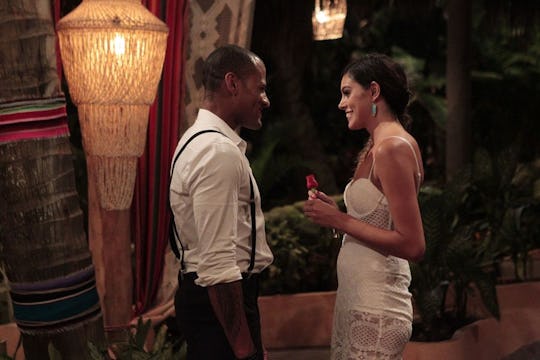 Rick Rowell/ABC
Are Grant & Lace Engaged After 'Bachelor In Paradise'? They've Hit A Rough Patch
Somewhat unbelievably, the romance between Grant and Lace on Bachelor in Paradise has blossomed into one of the strongest relationships at the resort, culminating in Grant finally telling her "I love you." Early rumors seemed to hint that they were one of the couples getting engaged at the end of the show. Are Grant and Lace engaged after Bachelor in Paradise? They seem to have hit a bit of a rough patch. Though this season's golden couple were in a fight for most of the episode, it's at least clear to this TV blogger that these two kids love each other, and they just might go the distance.
The fight began with some light flirting between Lace and Carl. Or maybe Lace was just talking to Carl and everyone thought they were flirting. Whatever happened, at some point Lace joked to Grant "Good luck getting a rose tonight," which he described as "f***ed up." Cue the explosions. While at first Grant and Lace both looked like they were on the verge of just throwing in the towel on their whole relationship, just a few hours later they were working through their issues like adults in a grown-ass relationship. Lace approached Grant, and Grant told her he was sorry for overreacting, while Lace apologized for hurting his feelings. Awww.
This shouldn't come as news to anyone, but relationships are work. And Grant and Lace seem to realize this, which is why I think this might actually be a real relationship. Grant said that he doesn't mind putting in more work than Lace right now because she's worth it. This fight may even have made their relationship all the stronger, and Lace confessed to Grant at the cocktail party before the rose ceremony that she had a little bit of a breakthrough. When the two of them were making up, Grant said, "The reason that you act the way you do sometimes is because you're scared." It looks like Lace agreed, later admitting she can't run away from something good just because she's scared. Because, as she put it, Grant compliments her weaknesses, "Grace" might be the strongest thing to come out of Paradise since "Janner."