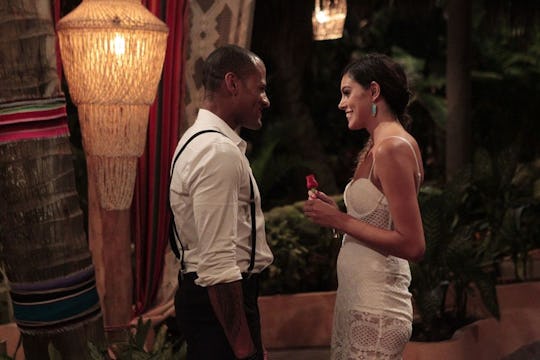 Rick Rowell/ABC
Are Grant & Lace Getting Married After 'Bachelor In Paradise'? You've Got To Root For Them
Against all odds, twin pillars of hotness Grant and Lace have become one of Paradise's strongest couples, along with Josh and Amanda and, even more bizarrely, Carly and Evan. Mike Fleiss has already teased that multiple couples get engaged at the end of the season, so are Grant and Lace getting married after Bachelor in Paradise? I'd say the odds are in their favor.
We already know somebody is getting engaged at the end of this thing. In fact, three couples are getting engaged, and at this point it really only makes sense that one of those couples would be Grant and Lace. Rumors about the show early on pointed to them as one of the engaged couples, and they haven't been all that sneaky about keeping their relationship private. Paparazzi photos have already shown them hanging out poolside together in Denver, where Lace lives. Personally, I'm happy for them. If there was a couple on Paradise this season who were ready to pick up the Jade and Tanner torch, it's Grant and Lace. Not only have they been strong in their relationship from early on, but they seem to have learned how to work through their differences and talk things through when they fight. Brava.
Though Lace's first hookup at the resort was with Chad, the connection was doomed from the start and rather predictably exploded into madness before the first night was even over. Lace quickly then got close to Grant, who I believe has been something of a steadying influence on her. Lace's behavior can be a little erratic, and she does constantly feel the need to defend herself against the people who call her "crazy." But Grant has stepped up and been there for her in a major way. Even after a recent fight, Grant said that he was willing to put in the work it took to have a healthy relationship with Lace because she's worth it. And that is the reason I think these two might actually make it. They have the ability to work through their fights, which might be one of the most crucial aspects of an adult relationship.
I don't know when they're getting married (and I don't even know officially that they're engaged) but if they do, I hope to God it's televised on ABC. Because that is a wedding I want to see.