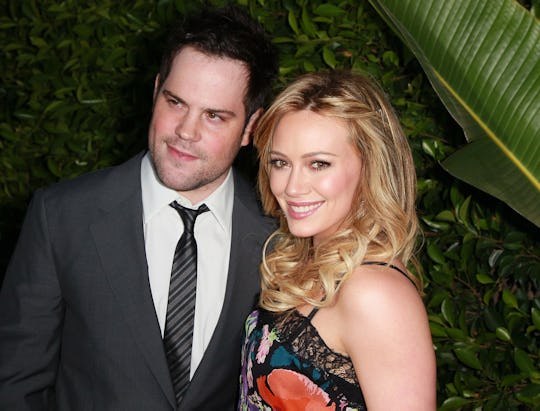 David Livingston/Getty Images Entertainment/Getty Images
Are Hilary Duff & Mike Comrie Back Together? They Reunited For Their Son's Birthday
Hilary Duff and Mike Comrie might be divorced, but the two seem to be totally killing this co-parenting deal. Over the weekend the exes reunited to celebrate their son Luca's fourth birthday. The two looked really happy and relaxed, particularly considering their divorce was finalized just a few weeks ago. So, is their relationship heating up again? Are Hilary Duff and Mike Comrie back together? Or are they just the most amicable divorced couple in history? It's hard to tell.
Last month, just days after their divorce was finalized, the exes went on vacation together in Maui with their son, who Duff credits with keeping her and Comrie on the same page. After splitting with Comrie, Duff told Cosmopolitan the separation was amicable and that the two just realized that there was "... a slow set-in of us not being the match we used to be," she said. The couple was married for four years and they now share custody of Luca.
Duff and Comrie sound like two great, mature parents willing to put the inevitable hard feelings associated with a divorce aside to share in their son's life. Of course their willingness to come together could also be a sign that the two are rekindling feelings they obviously once had for each other. None of my business, but I do wonder.
That sure is a cute family. And Luca's sweet smile would be enough to melt away any bad blood between divorced parents.
Duff and Comrie have joined a growing list of public couples who are able to maintain a close relationship despite a divorce. Jennifer Garner and Ben Affleck are able to vacation together and are frequently caught by paparazzi alone together running errands and looking very much the couple. Maybe it's my yearning for a happy ending, but it's totally heart warming to see these couples reunite. And why should anyone be surprised? No matter how badly these divorced couples might want to get away from their marriages, they're never going to escape the bond they share — their children. Though at times it's probably emotionally confusing to share love for a child with someone and not have that affection color to your feelings, the child must make it all worth it.
Regardless of the details of the relationship, you have to respect how well Duff and Comrie are handling their split and parenting their son. Luca is obviously very loved and, when it comes down to it, that's really all that matters. Here's another Instagram post from Duff about her son's birthday.
"You...are magic my little big boy" Duff wrote. "Happy 4th birthday my heart just explodes for you."
Endings don't get much happier than that, regardless of whether Luca's parents are married.