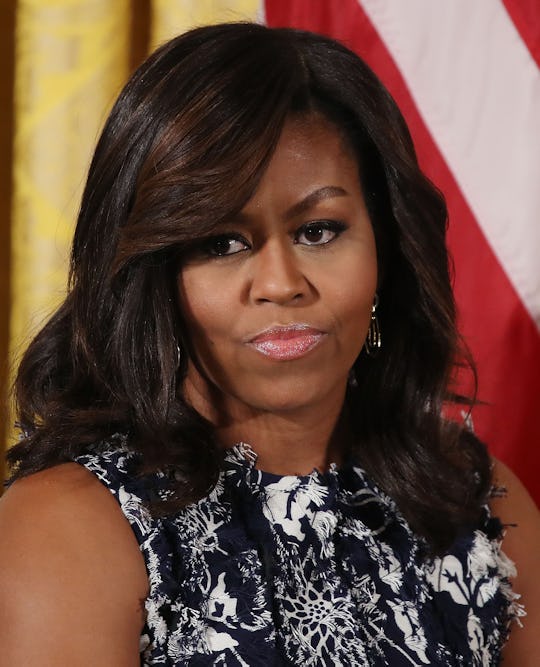 Mark Wilson/Getty Images News/Getty Images
Are Hillary Clinton & Michelle Obama Friends? Their Relationship Is Complicated
Scheduled for the opening of the Democratic National Convention in Philadelphia on Monday night, first lady Michelle Obama's speech is perhaps one of the most highly anticipated. But are Hillary Clinton and Michelle Obama friends? According to gossip, they really don't get along at all. In a book called First Women: The Grace and Power of America's Modern First Ladies author Kate Andersen Brower alleged that there was a lot of "bad blood" between the two women that dated back to the 2008 campaign when Clinton first ran against President Obama.
Michelle and Clinton just don't see eye to eye on many things. For one, Clinton loves politics. Michelle, not so much, according to Brower. Also, the First Lady wanted Vice President Joe Biden to run for president in 2016 (that would have been something) and "resents" Clinton's grab for power. In the book, an unnamed aide claimed, "When Michelle Obama views the Clintons, I don't want to say she's looking down her nose at them — but she kind of is." The Obamas have also never had the Clintons over for dinner, which is probably the biggest slight of all (because dinners are how fancy people show their admiration for each other, of course). But when it comes to this election, somehow the Clinton campaign and the DNC convinced the first lady to speak. So what happened?
There are a few reasons that Michelle Obama would speak at the DNC. The first is a technical and symbolic one when it comes to sort of "passing the torch," so to speak, to the next Democratic presidential nominee. President Obama can't speak at the convention, because as sitting president, he needs to stay out of the election madness. But Michelle is his representative. Also, people love the first lady across party lines, and it's a good way to show that Clinton has the support of actual, likable people (since Clinton's public image is not doing so great these days).
The most recent Gallup poll, found that Michelle Obama is viewed favorably by 58 percent of U.S. adults and unfavorably by 33 percent. That's higher than President Obama's approval ratings. The DNC, and presumptive Democratic nominee Hillary Clinton, need the First Lady to come on strong for her, even though it feels like Michelle Obama would probably be more of a Vermont Sen. Bernie Sanders supporter than a Clinton one, given that she still holds it against Clinton for mocking the "hope and change" slogan in 2008. Sometimes, it's hard to let go of a grudge. Of course, there must be some mutual respect between the two women. I mean, at least they agree that fresh food is good for you.
Then again, when you think about it, you never, ever see them together. Much like her husband's relationship with the former Secretary of State, it's "complicated." You can respect someone's work ethic and experience and not like them as a person, which is probably what the first lady will try to get across to delegates on Monday night.