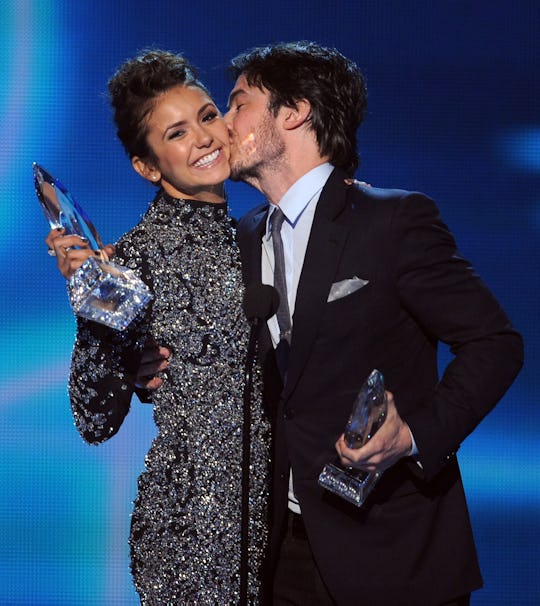 Kevin Winter/Getty Images Entertainment/Getty Images
Are Ian Somerhalder & Nina Dobrev Friends? There Is No Bad Blood
Friendships last a lifetime. There is a lot that can be a lot said about the people you choose to surround yourself with, both in friendships and romantic relationships. This can be said for celebrities; their relationships speak volumes. A relationship is built on so many things — and when they don't work out, a friendship still lingers at the core. Former Vampire Diaries co-stars, Ian Somerhalder and Nina Dobrev speak so much truth to this. Although they once dated and had people wondering if Ian Somerhalder and Nina Dobrev are friends for the longest time, they have proven that friendship always prevails in the end.
The former couple is still pretty good friends, in spite of their past as a couple. This February, the two took to Instagram to proudly make a statement: they're friends and there is no hard feelings between the two of them. Sharing a selfie with Somerhalder and his wife, Nikki Reed, Dobrev shut down anything that might have circulated about their lack of friendship in her Instagram caption:
Can't believe how time flies. Farewell dinner with Team Somereed! So good catching up with these goofballs.
Reed shared almost the same exact photo to her Instagram, according to E! News, effectively shutting every rumor down in one fell swoop in the caption of her photo:
For the last few years we thought addressing the baseless rumors with silence was the best way. Besides, who wants to respond to made up stories about "friends backstabbing friends," "cheating exes," or "cast members exiting shows" on lowbrow websites like Hollywood Life that are just perpetuating trends that preceded us. Yuck.
Reed continued in her caption, stating that she felt a "moral responsibility" to end the narrative that there was a feud between the exes, according to People. Her initiative to do that was admirable. Somerhalder also addressed their friendship on the same day, writing in the caption of a photo of his own, according to Us Weekly: "Only love here — always have always will be."
What kind of rumors were the three of them addressing in that caption? A lot. Somerhalder and Reed started dating in 2010, according to Us Weekly and split three years later in May 2013. When Dobrev left The Vampire Diaries in 2015, two years before the series end, many people assumed it was because of their relationship. They were wrong. Two years before they addressed the rumors on Instagram, Dobrev told E! News in 2015 that she could not be on any better terms with Somerhalder:
I've said this before, that we didn't break up because anything bad happened or because there wasn't any love or friendship. I love him and the friendship is still strong and I think he's great and I care about him. And that didn't change. Yes we're professional and that's fine. We were friends long before we dated and we still are now.
There you have it straight from the source's mouth. There is no bad blood between the exes or Somerhalder's wife. Just a solid friendship.