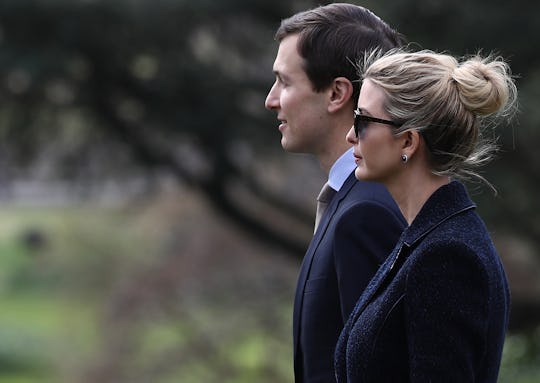 Win McNamee/Getty Images News/Getty Images
Ivanka Trump & Jared Kushner's Roles Are Complicated
As you may well know by know, the Trump White House is indeed a Trump White House. While President Donald Trump has kept his two sons out of official White House business, he has already chosen his son-in-law, Jared Kushner, to serve as a special adviser. And recently, his daughter, Ivanka, took on a role alongside her husband, also as a special White House assistant, though it's not clear what she'll be advising the president on, just yet. So, are Ivanka Trump and Jared Kushner paid White House employees? Technically, they're both unpaid employees, but that doesn't mean that the lines of nepotism are any less blurred.
On the campaign trail, Ivanka was an important figure, certainly working to appeal to the female demographic, among other things. She has been an adamant supporter of her father and a vocal proponent for women's rights, which makes her role in the White House that much more important, though no less confusing for outsiders.
An anti-nepotism law from 1967 restricts Ivanka from receiving a paycheck for her role as Trump's adviser (or as her official title details, "assistant to the president"), however, she and Kushner will still be held to the same ethics rules to which all federal government employees adhere. However, all of this information is futile when the daily happenings and goings on of Ivanka and Kushner's new positions are still unknown. The title, "assistant to the president" doesn't explain much, and leaves quite a lot to the imagination.
What remains clear, though, is that Ivanka and Kushner aren't getting paid for their new jobs, and, as Politico reported, both have already made moves to disclose their finances and comply with their new ethics codes:
Under the new rules, Trump has divested her common stock, tech investments, investment funds — and they will all appear on Kushner's 278 financial disclosure form, required by all Cabinet nominees. Bloomberg News reported on Monday afternoon that Trump and Kushner sold as much as $36.7 million in assets to comply with federal ethics rules, according to the Office of Government Ethics.
However, Ivanka's lawyer, Jamie Gorelick, reminded Americans that there is no way for Ivanka and Kushner's new roles to be completely free of conflict. Speaking to Politico, Gorelick stated, "The one thing I would like to be clear on: We don't believe it eliminates conflicts in every way."
It's crucial to remember that Ivanka and Kushner's roles are truly unprecedented in modern times, and shouldn't go unchecked; In politics, everything is calculated, and the Trump White House knows exactly what it's doing in hiring the two. Now, it's up to Congress and the American people to keep a close eye out and regularly remind them that, in the end, they work for the country — not their own bottom line.