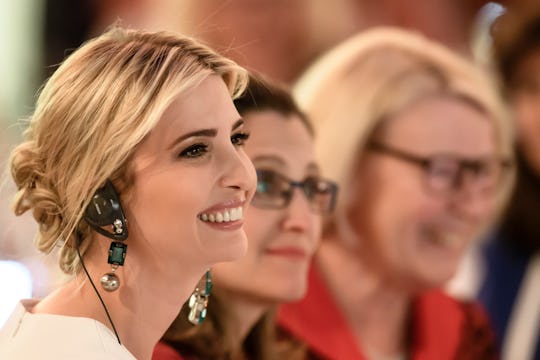 Pool/Getty Images News/Getty Images
Are Ivanka Trump's Kids Mentioned In Her Book?
Before President Donald Trump won the Nov. 8 election, his daughter, Ivanka Trump, completed a manuscript for her second book, Women Who Work: Rewriting The Rules for Success. These days, Ivanka's life looks much different than it did then — she has since left her various jobs in her own company and at the Trump Organization to become an unpaid White House employee — but the book she penned before it all officially hit shelves on Tuesday. Are Ivanka Trump's kids mentioned in her book? Ivanka herself described Women Who Work as being a book meant to "supply advice and tips on leadership, entrepreneurship, juggling work and family," according to The New York Times, and in it, she discusses her marriage and children often. But while Ivanka might have intended for the book to be a relatable guide for millennial moms who want to succeed in both their personal and professional lives, it's pretty clear that the advice she gives on "having it all" is actually primarily geared to women whose lives already look a lot like hers used to.
The fact that Ivanka has grown up incredibly privileged isn't necessarily something she should be criticized for, and there's also nothing particularly wrong with the fact that she's able to benefit from having the resources to afford things like child care, and to live a certain kind of life with a certain set of benefits and challenges. Though the book as a whole is pretty eye-roll-inducing (some of her advice includes creating a family mission statement, and making sure to pursue non-work-related passions, like "gardening, boxing, [or] trapezing"), it's also very clear that, above all else the relationship she shares with her husband and three young children is incredibly important to her. And that's one thing, at least, that many women will actually be able to relate to.
Her Kids Help Her Define Success
Despite being primarily positioned as a self-help guide, Women Who Work can probably be more accurately described as 200-or-so pages of Ivanka explaining how she personally lives her life. And one idea that comes up again and again throughout the book? The concept that, as far as she's concerned, her marriage, her children, and her work are all more or less equally important to her.
Early on in the book, Ivanka discusses the importance of defining success, both in your work and your home life. And as far as her own definition is concerned, it's something that she seems pretty clear on, according to the book:
For me, success means being an involved mother, a loving wife, and being incredibly committed to my work. As a result, it also means I go to bed much later and get up much earlier than I did before I had kids! My children are young; my fashion brand is thriving and constantly evolving; my role leading The Trump Organization grows larger and more exciting with each passing day. I'm in a unique place, where my life is both chaotic and amazing, and I wouldn't want it any other way.
That seems like a bit of an interesting way to begin a book meant to be a guide for female empowerment (it's nice that she has such a wonderful, successful life, but I can't say that most of the millennial moms I know feel as though their lives right now are made up only of a series of fantastic, fulfilling opportunities). But when she focuses in a bit more on what her family really means to her, it begins to sound a lot more like something that most moms can understand. She writes,
My greatest passion is being a wife and a mother to my three children. I'm the first person they see in the morning, and the last to give kisses at night. Making sure I have uninterrupted time with my family before and after work during the week, and again on weekends, is a huge priority for me. My husband and I strive to keep Saturday and Sunday as unscheduled as possible ... so we're able to be totally focused on the kids.
That might not exactly be an attainable goal for all millennial moms — especially those who don't have a partner to share the parenting duties with, or flexibility in their work schedules that would allow them to be home for their children's bed times. But the desire to at least be more present, and more attentive to her children's needs, is certainly a common one. And it shows that, even if Ivanka does have a demanding work life, and extra help with her children, it's still important for her to be there as much as she possibly can.
Her Faith Plays A Major Role In Her Family Life
When Ivanka married her husband, Jared Kushner, in 2009, she converted to Orthodox Judaism, according to USA Today. And while her father made a number of attempts during the presidential campaign to refer to his Christian beliefs (Trump is a Presbyterian, according to CNN), it's evident that in Ivanka's household, her Jewish faith is very important. She wrote,
From sundown Friday to Saturday night, my family and I observe the Shabbat. During this time, we disconnect completely — no e-mails, no TV, no phone calls, no Internet. We enjoy uninterrupted time together and it's wonderful. ... We enjoy long meals together, we read, we take walks in the city, we nap, and just hang out.
While Ivanka explained that the time they spend together during Shabbat is "a sacred part of [their] religion," she also noted that the additional benefit is that it also gives her and her husband a valuable opportunity to unplug.
She Devotes Time To Specifically Connecting With Her Children
If it weren't already clear that it's a big deal to Ivanka that she spends plenty of quality time with her children, she shared that she actually makes a physical list of ideas for special bonding time with her kids so that she knows she's following through. And honestly? It's a pretty great idea:
... I write a list for connecting with each of my kids; I put real thought into coming up with ideas for memorable moments I can create with each of them. Right now, I play cars with Joseph, on the floor, for twenty minutes a day. Arabella loves books, so I make a note to read at least two per day to her and plan "dates" to the library. With Theodore, I commit to ensuring that I can give him two to three of his bottles each day and rock him to sleep at night.
Ivanka also wrote that she had taken up gardening as another way to spend quality time with her kids:
On the weekends, we hang out in the garden at our country home in New Jersey. Berries are a big hit: strawberries and blueberries; we even have a peach tree and fig bush. A giant sunflower grows out of our little garden bed; that's Arabella's responsibility ... Connecting with my kids in a leisurely way on the weekend is a wonderful respite from my harried weekdays.
Of course, we might not all be picking figs from the garden at our weekend country homes, but the sentiment still matters. Just like most busy moms, Ivanka seems to really care about ensuring that she's spending enough time with her children doing things that are actually fun — and her children are likely much better off because of it.
But She Made Some Serious Concessions When It Came To Her First Maternity Leave
As the boss of her own company — and a top-level executive in her family's — it seems like Ivanka would be someone who would be able to make sure that her work could take at least a bit of a back seat to her needs as a pregnant woman and new mom. But when she shared the details of overseeing the acquisition and renovation of what is now the Trump National Doral resort in Miami, Ivanka revealed that, at a time when most pregnant women are nesting in preparation for their child's arrival, she was actually attempting to navigate her way through a difficult deal:
I was pregnant with Arabella throughout the early negotiations. Then, in my ninth month, the sellers called to tell me they were accepting a higher offer from a different bidder. Unwilling to match, I thought the deal was dead.
Just a few days after I gave birth, the seller called again to say that they would do the deal at our price — but that meant my having to fly with my father from New York to Miami to complete the due diligence on the property before signing a contract. Five days later, the deal was done and the contract had been signed.
Discussing maternity leave in her book must have been a bit of a tricky decision in retrospect, because now that her father is the president, maternity leave is specifically one of the things she has been expected to champion. Hopefully the fact that she felt the need to go on a business trip only a few days postpartum isn't a reflection of her vision for a comprehensive parental leave policy — but just what Ivanka will actually accomplish for mothers in her current White House role is still to be seen.
Ivanka's latest book may not exactly be the inspiring manifesto of female empowerment she may have been envisioning, and for the most part it's hugely out of touch from what most women's lives actually look like. But even if she missed the mark, hearing her discuss her devotion to her kids was at least somewhat relatable.
She may have a completely different experience than the "modern millennial woman" she writes about, and her father's politics may in many instances seem to stand in complete opposition to the needs of the women in her generation. But, perhaps unsurprisingly, motherhood seems to be one of the areas in which it's at least possible to find some common ground. And it's evident from her words that her children are extremely important to her life.