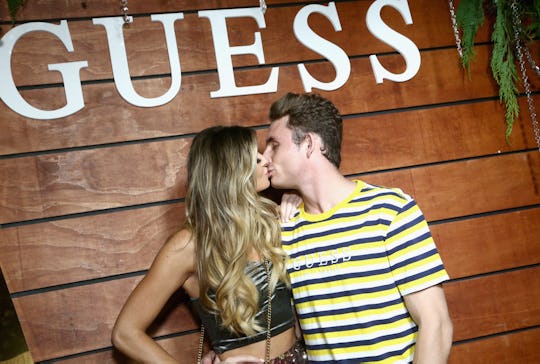 Tommaso Boddi/Getty Images Entertainment/Getty Images
James & Raquel Are Going Strong On 'Vanderpump Rules'
James Kennedy and Raquel Leviss have been together for a while on Vanderpump Rules. Though there may have been the occasional bump in the road (not to mention plenty of drama with the other cast members), they've managed to make it work year after year. James' friendships with his co-stars have gotten more than a little tense in Season 7, but is his relationship still going strong? Are James and Raquel still together after Vanderpump Rules?
It seems like James and Raquel are as in love as they ever were. In fact, they decided to move in together just this year. In November, they provided Bravo Home & Design with an update about their new apartment and showed off all its very on-brand features. That included its "perfect selfie lighting," courtesy of a gigantic window, and a studio for James to do all of his DJ business. The picture of domestic bliss was completed by their adorably fluffy puppy, Graham.
James and Raquel appear to be happy together, and just last year he was singing her praises to Bravo. "I don't know; what makes you special? She's just the most beautiful soul I've ever met in my life," he said. "I'm blushing now. She's just a beautiful soul inside and out, and I couldn't be luckier."
Their social media tells a similar story, with both James and Raquel posting regularly about the other. There are plenty of posed pictures of them at events on James' Instagram, captioned with simple heart emojis or James referring to Raquel as "my love." Raquel echoes every sentiment on her own account, posting when she misses James and documenting their romantic outings. But while things look like they're going well, that doesn't mean they haven't dealt with drama. James has been accused of cheating on Raquel as recently as June of this year. That was when co-star Kristen Doute told Us Weekly:
Do I think James has been faithful to Raquel? No. Exactly what I said on the reunion last season, I absolutely not. I haven't changed my mind since the reunion, but I also don't surround myself with James. I don't think there's anything he could do to make me change my mind about the way I felt last year.
A year prior, when the same rumors were floating around, James told Bravo that the accusations hadn't affected his relationship with Raquel one bit.
"Obviously, I understand all the rumors and drama and everything that's happened on the show," James said, continuing:
You know we've basically gone through it together and I felt like these girls went to the end of the Earth to try and ruin my relationship. But we've stuck through everything and we love each other. But that's what makes relationships stronger is going through hard times and good times.
Their decision to move in together indicates they're taking this seriously despite the difficulties that come with starring on a reality show. James and Raquel are still together and it doesn't look like that will be changing any time soon.
After experiencing a traumatic c-section, this mother sought out a doula to support her through her second child's delivery. Watch as that doula helps this mom reclaim the birth she felt robbed of with her first child, in Episode Three of Romper's Doula Diaries, Season Two, below. Visit Bustle Digital Group's YouTube page for more episodes, launching Mondays in December.