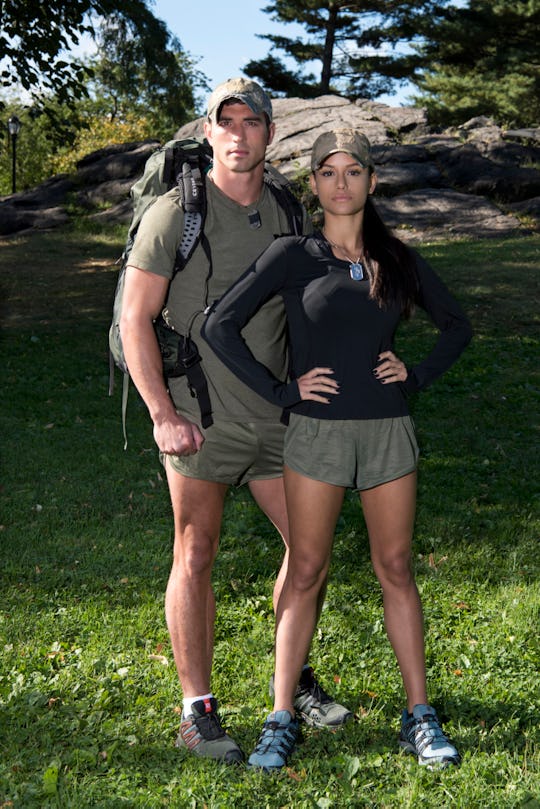 John Paul Filo/CBS
'Big Brother' Alums Jessica & Cody Are Taking On 'The Amazing Race'
There's a Big Brother crossover happening on The Amazing Race this season. Big Brother 19 fan favorites Jessica Graf and Cody Nickson, popularly known as "Jody," are returning to the small screen as a competing team on the 30th season of The Amazing Race. The pair fell in love during their time in the Big Brother house, but are Jessica and Cody still dating on The Amazing Race? I'm pleased to report that they still seem to be going strong.
For Jessica and Cody it was pretty much love at first sight. While Cody was mostly stone faced the whole time he was in the BB19 house, he only had smiles for Jessica. But even though the two had a pretty strong hold on the house in the beginning, when Cody attempted to put Paul up for eviction, the house turned on them. After that it became Jessica and Cody against the rest of the house, and while the two weren't able to overcome the power that Paul held over the other houseguests, their trials in the house only seemed to make their bond stronger.
After Jessica left the house a week before jury, she took to Twitter to show her support for her man, and then advocated for Cody to be voted America's Favorite Houseguest, which he did end up winning, earning him $25,000. Thus, even though neither of them ended up winning the Big Brother grand prize of $500,000, they clearly still make a formidable team, something that will hopefully help them in The Amazing Race.
Since The Amazing Race is prerecorded, Jessica and Cody are back home now and it appears Cody has moved from his home in Plano, Texas to Los Angeles, California to live with Jess. The couple has started their own YouTube channel, Living Jody, where fans can see their everyday lives together. In one of their first videos, the pair are seen celebrating Christmas together in what looks to be an apartment they're sharing. Living with them is a dog and hanging on the fireplace they also have a Christmas stocking for Cody's daughter, Paisley.
It looks like Cody and Jessica are even more serious about each other now than they were in the BB house, and it'll be interesting to see them compete as a couple on The Amazing Race. It already looks like they had a better experience in this competition than they did on Big Brother, as they've developed a friendship with their fellow competitors IndyCar drivers Alexander Rossi and Conor Daly. Jess took to Twitter to wish Conor a happy birthday and when Jess was getting hate on Instagram, Conor stepped in to defend her.
Jess has also shouted out her support to another team competing this year, #TeamExtreme, which consists of professional skiers Kristi Leskinen and Jen Hudak. Although Jess and Cody did come out of the Big Brother house friends with their housemates Mark and Elena, it definitely appears that Jess and Cody had a much friendlier experience in The Amazing Race than they did in the Big Brother house.
Besides starting their YouTube channel, it's unclear right now what Jess and Cody have planned next. For their Amazing Race bios, they both listed themselves as unemployed, so for now it seems like they're going with the flow. No matter what happens next for them, they have each other and hopefully it'll stay that way for a long time. Fans are already wondering if there will be wedding bells in the future, but Jess and Cody are staying quiet on that front.
You can see how Jess and Cody work together as a team when The Amazing Race premieres on Wednesday, Jan. 3 at 8 p.m. EST on CBS.
Check out Romper's new video series, Romper's Doula Diaries:
Watch full episodes of Romper's Doula Diaries on Facebook Watch.