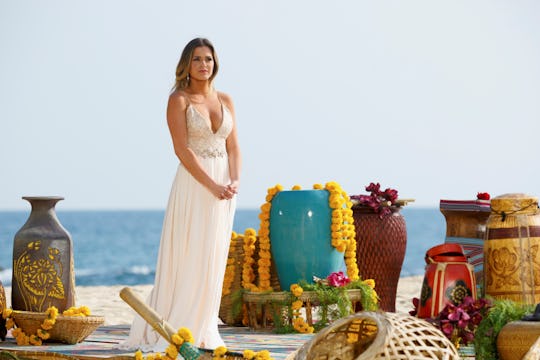 Are JoJo & Jordan Engaged After 'The Bachelorette'? The Show Is Sworn To Secrecy
There are just two guys left standing on The Bachelorette, both alike in dignity and hair game, and Bachelor Nation is waiting with baited breath to find out who JoJo chooses in the end. Will she go with former competitive swimmer, Robby, or former NFL quarterback, Jordan? The 25-year-old Bachelorette has said that she's ready to find her husband and get married, and many people predict that Jordan is going to be the recipient of the final rose. So are JoJo and Jordan engaged after The Bachelorette? Obviously nobody can say anything yet.
The previews for the season finale promise an extremely emotional episode, as JoJo spent the majority of the 50 second clip sobbing uncontrollably. "I feel like I'm having a panic attack," she blubbers as she fans herself. She says that she found a man that she loves, but who can't love her in the way that she wants or needs. She ended up having to say goodbye to a man that she loves. Could this be Jordan? Possibly, as throughout the season one of the problems with Jordan and JoJo's relationship has been that she hasn't felt he was totally open with her. We also see in the preview that somebody is driving up with what is definitely a box for an engagement ring in his hands.
So who's hands are those? And does he give her the ring? Does she say yes? Well here is what we know so far. Jordan's loose-lipped brother Luke (not to be confused with the very tight-lipped brother Aaron) let slip an otherwise harmless phrase that could definitely be interpreted that Jordan was the winner. Referring to her woeful lack of knowledge of Rodgers family favorite films, he said, "We're gonna catch her up..." before correcting himself and changing his statement to "We could catch her up." This little statement certainly seems pretty telling. Meanwhile, Jordan's famous other brother Aaron has said merely that he wishes his brother well in "the competition." Aaron Rodgers I hereby dub thee King of Shade.
For her part, JoJo has said that she obviously can't reveal too much, and will only say that she is happy. That's great, JoJo, but we wanna know how happy. Like how many carats and what does the dress look like happy.
The last piece of evidence that I will present to you is this screenshot:
Those are totally Jordan's hands, right? While Robby could be proposing too, which would be painful to watch, we'll have to wait and see what happens.