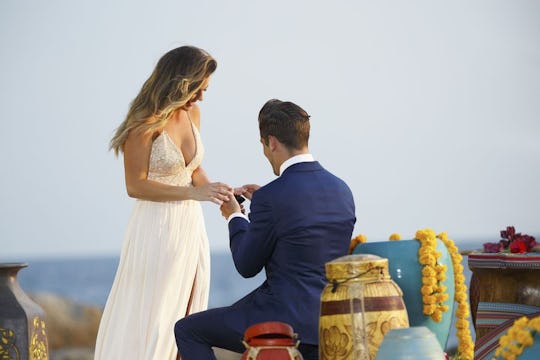 Matt Klitscher/ABC
Are JoJo & Jordan Still Together? She Says She's Very Happy
Every contestant goes on The Bachelor or The Bachelorette to find fame (ahem, excuse me) love, and some of them really do meet their soulmate through the show. However, over 20 seasons of this, many couples find that their made-on-TV romance was just not as perfect in the real world. The gold standard for anyone who goes on the show is the first Bachelorette, Trista Rehn, who married Ryan Sutter in 2003. 13 years later the couple is still together, a minor miracle for Bachelor nation. So what about JoJo's final pick? Are JoJo and Jordan still together?
After 11 weeks, JoJo finally chose Jordan, and sent a broken hearted Robby home. According to her confessionals, JoJo was in love with both men, and it was clear that her family was absolutely besotted with him. Though it hurt her to reject his proposal, she was excited to start a new life with her new fiancé, Jordan. It seems a little strange to ask this now, but will it last? Rumors have been swirling since the very beginning about Jordan and a not-so squeaky clean past, as well as the well-publicized family feud with his brother Aaron. Before the finale aired, JoJo stated that she was "very happy," so ideally that means the couple is still going strong.
On the After the Final Rose special, JoJo addressed the rumors in the media about their relationship. "It's been hard," she said, discussing how people have been saying things like "he doesn't really love you." While I'm personally not the biggest Jordan fan, JoJo totally has a point when she says she doesn't want to feel like she should have to prove that her relationship is real, but she still wants to. At least now that it's all over, she and Jordan can finally be open about their relationship.
In his proposal, Jordan told JoJo "You're my best friend. You're my soulmate. I want to wake up every day and choose you over and over and over again." While certainly was never as straightforward about his feelings as Robby, his proposal speech was perfect. Even I, a die-hard #teamWells gal, got a little emotional.
Though JoJo admitted that they've had their issues, the couple was firm that they are in it for the long haul.