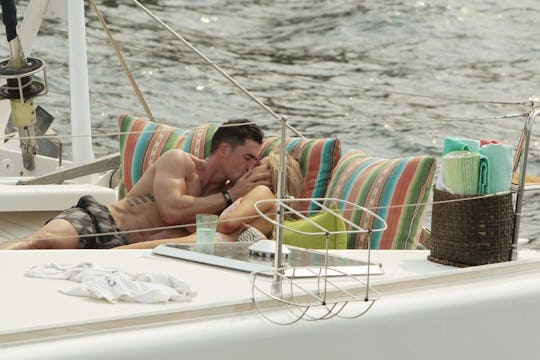 Rick Rowell/ABC
Are Josh Murray & Amanda Stanton Engaged After 'Bachelor In Paradise'?
If you've been watching the Bachelor franchise for the past couple of years, you are most definitely loving the reuniting of Nick Viall and Josh Murray from Andi Dorfman's season of The Bachelorette. The two are back and once again competing for the same girl — this time, Amanda Stanton. Currently, Josh and Amanda have some major chemistry, but it's a secret from the Bachelor in Paradise after show that might spoil the result from this season. So, are Josh Murray and Amanda Stanton engaged after Bachelor in Paradise?
I, personally, am someone who avoids spoilers. I think about the show far too much during my day-to-day life to want to know the outcome with the simple Google search. But, on the after show with Sean Lowe and Michelle Collins (miss you Chris Harrison), the two revealed that Amanda Stanton and Josh Murray might be one of the couples to last this season on the show. This is coming from the mouth of one of the men who was once a spoiler-centric persona for television (Sean Lowe). Doesn't he know some things are sacred?
Of course, if you're actually into spoilers, you can search them easily online. Reality Steve is known for his Bachelor Nation spoilers, and he will no doubt keep up with the precedent he has already set. But, if you're not into spoilers — I don't blame you — then there's really no point in clicking. Instead, we can look into the actually chemistry on the show to figure out if these two will actually last.
From the look of their current chemistry/ make-out schedule, I'd say there's a very good chance these two could "end up together." I put that in quotes, because I'm not naive in knowing that some of the relationships that come out of Bachelor in Paradise are not meant for this world (hi, Marcus and Lacy). But, there's always an exception (Jade and Tanner), and maybe Amanda and Josh are that exception (Jade and Tanner). Maybe they're the couple that will move on after the show (Jade and Tanner) and leave the spotlight behind them (Jade and Tanner).