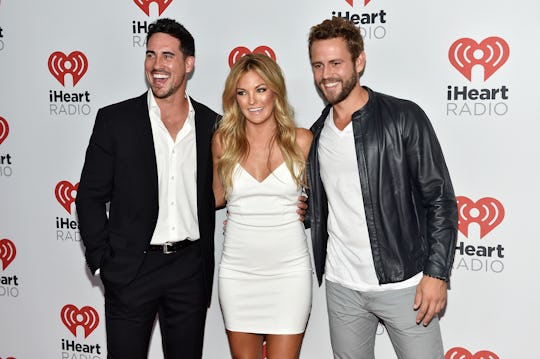 David Becker/Getty Images Entertainment/Getty Images
Are Josh & Nick Friends On 'Bachelor In Paradise'? They're They Definition Of "Frenemies"
If there's one thing I love about Bachelor Nation, it's the drama between dude contestants. Hear me out: Everybody criticizes the women for supposedly being "catty" towards one another while on the show, but no one ever points the finger at the men, who can be just as gossipy and rude to one another. Just take a look at JoJo Fletcher's season of The Bachelorette. That was filled with guys talking about each other to JoJo almost constantly. A prime example of this complicated co-contestant dynamic? Josh Murray and Nick Viall. But are Josh & Nick friends on Bachelor in Paradise this year?
A little background on the history between the two drop-dead gorgeous dudes: both competed for Andi Dorfman's heart during Season 10 of The Bachelorette. Nick "Always a Bridesmaid, Never a Bride" Viall got his first taste of that runner-up life (which he'd go on to revisit next season, vying for Kaitlyn Bristowe), while Josh won Andi's love in the end.
Of course, we all know how that ended: despite picking Josh, the two former lovebirds had ended their engagement by the following year. As Andi's recently-released tell-all memoir revealed, it was allegedly a messy break-up and bad relationship.
Supposedly, a big point of contention in their relationship was the fact that Andi allegedly slept with Nick during their overnight date and then withheld the truth from Josh when she got the sense he'd be upset about it. Relatedly, after the Season 10 finale, Josh called Nick "very classless" and "disrespectful" for discussing the details of his fantasy suite date with Andi and said they would both never associate themselves with someone like him.
So, naturally, Josh and Nick didn't appear to be on good terms during the Josh/Andi relationship. But the Bachelorette pair announced that they'd broken up back in early 2015 – did Josh and Nick bond over their mutual breakups with Andi after that? Not exactly.
In July 2015, Josh made the most obvious joke ever after Nick placed second (yet again) at the end of Kaitlyn's season, losing her to Shawn Booth.
I don't know about you, but that doesn't exactly strike me as a good-natured joke between pals.
Making things even more confusing, the two shared a photo op at the iHeart Music Festival back in September 2015.
Josh captioned his Instagram post with the photo "Media Obligations" with an angry emoji, but that actually does seem like a joke. On top of that, their mutual former fellow contestant Marquel Martin also shared a pic from the same event, where he stands between the two "enemies," captioned "Can't we all just get along?!"
It definitely seemed as if the guys were poking fun at their "feud." Afterwards, Nick even told Us Weekly that "it was nice to see [Josh]" and that "it was good to finally hang out again." The two didn't chat about Andi or their Bachelorette past.
So, as of September, it seemed like the two were on at least okay terms. That said, the newest promo for Bachelor in Paradise revealed that Josh is set to show up on the beach on Day 2 – and he's going straight for Amanda Stanton, who Nick is clearly set to fall for this season (based on existing promos).
Poor Nick. Is he really going to lose a woman he loves to Josh yet again? I guess they really do have the same type. That's unfortunate, but right up Bachelor Nation's alley, I think. Maximum heartbreak.