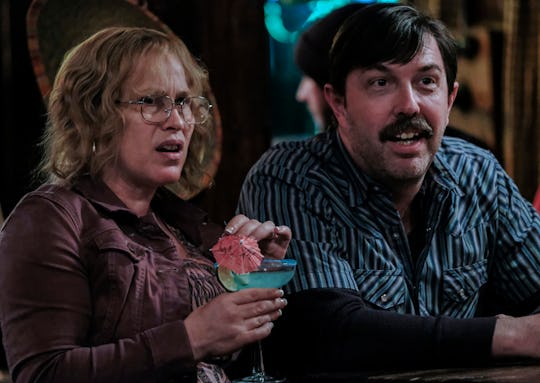 Christopher Saunders/SHOWTIME
Here's Where Joyce & Lyle Mitchell Are Now
Ben Stiller has taken on the monumental task of adapting the true story of a 2015 prison escape in upstate New York for a seven-part miniseries currently airing on Showtime. Escape at Dannemora boasts an all-star cast, including Patricia Arquette as Joyce "Tilly" Mitchell, the inmate supervisor at the heart of the story. Eric Lange (Narcos, Victorious, Lost) plays her husband Lyle, and as viewers watch the wild tale unfold, they're bound to start wondering: are Joyce and Lyle Mitchell still together? In fact, the couple has remained rock solid through Joyce's three-to-seven year prison sentence.
The story begins at Clinton Correctional Facility, nicknamed "Dannemora" after the small town the massive complex is located in. The prison is 170 years old, the third oldest in New York, and the state's largest maximum security facility. The 2015 escape of two inmates, Richard Matt and David Sweat, was the first in its history. They escaped with the help of Joyce Mitchell, who worked in the complex (along with her husband) and a corrections officer named Gene Palmer. Joyce admitted to conducting sexual relationships with both Matt and Sweat, and was eventually charged with promoting prison contraband and criminal facilitation. Although her husband, Lyle, briefly distanced himself from his wife immediately following her arrest, he quickly changed his mind and began openly supporting her.
Part of Escape at Dannemora's appeal is that the miniseries shot on location in Dannemora, New York, including footage filmed at the real prison complex. But when Stiller and his crew approached Lyle asking if they could film in the couple's home, he said no, according to a 2017 interview with The Daily Mail.
"I just want for us to be left alone," he said.
Back in 2015, Lyle's attorney Peter Dumas appeared on the Today Show, apparently trying to distance his client from the situation. Said Dumas, "Lyle still cares about his wife, but he realizes he can't stand by her, that she's kind of made her own bed in this situation and he's got to distance himself from that."
But soon after, Lyle was visiting his wife in prison and vocally showing his support, despite the fact that part of the prison escape plan involved a conspiracy to murder him. After a parole hearing for his wife was postponed, he expressed disappointment that Palmer served such a comparatively short sentence (four months in prison), when, in Lyle's mind, Palmer's crimes were more severe than his wife's.
"Palmer knew everything that was going on, but it was easier for them to put all the blame on my wife not him," Lyle told The Daily Mail. "What he did was ten times worse than what my wife did. I just want her home where she belongs."
Lyle continues to post photos of himself and his wife together on Facebook with loving messages. Escape at Dannemora airs Sunday nights on Showtime.
This first-time mom wants to have a home birth, but is she ready? Watch how a doula supports a military mom who's determined to have a home birth in Episode One of Romper's Doula Diaries, Season Two, below. Visit Bustle Digital Group's YouTube page for the next three episodes, launching Mondays in December.