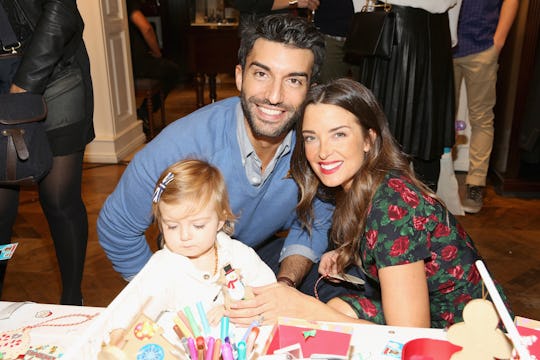 Rachel Murray/Getty Images Entertainment/Getty Images
Justin Baldoni & Emily Foxler Are Expecting Baby No. 2!
Major congratulations are in order for Justin Baldoni and Emily Foxler. The happy couple are expecting their second child, which will arrive in October 2017. These two definitely weren't shy about sharing their baby news with family, friends, and fans either: Baldoni and Foxler posted an adorable video on YouTube and Instagram to reveal their exciting announcement — and fans wondering whether Baldoni and Foxler are having a boy or a girl were almost treated to the answer.
The Jane the Virgin actor took to his personal Instagram account this week, sporting longer hair than his onscreen character Rafael Solano and a full beard, to share a quick one minute video teasing the gender reveal. Baldoni was accompanied by his wife and the couple's adorable 22-month-old daughter, Maiya. Baldoni is seen in the video asking his daughter whether she wants a little brother or a little sister, before it cuts off just as an ecstatic (and obviously surprised) Baldoni and Foxler open the envelope containing the answer.
Baldoni and Foxler are fond of sharing their personal life with their followers. Many of their growing family's biggest moments have been captured on film and shared on social media. When the couple became in engaged in 2013, they shared the footage on their YouTube account. Since it was posted, the engagement video has been viewed 11,510,936 times. Fans of Baldoni and Foxler can even watch a trailer for their wedding on YouTube as well, which shows the couple reading their vows to one another.
Much of Maiya's life has been documented, as well. The couple has shown what a day in the life of being Maiya's parent is like with a short video titled "Dear Maiya." Maiya has also been featured prominently in the videos surrounding Baldoni and Foxler's second pregnancy. They released a video which shows them sharing the news with their family and friends, including Baldoni's Jane the Virgin co-star Brett Dier and singer Andy Grammar. Maiya is seen throughout the video presenting family members with her mother's positive pregnancy test and wearing t-shirts that reveal the happy news.
This family certainly knows how to make heartwarming videos, to say the least. Their upcoming gender reveal is sure to be just as moving and sweet as their previous productions. Whether baby Baldoni is a boy or a girl, it's a guarantee that this warm, loving family will be over the moon. Congratulations once again to Foxler and Baldoni!