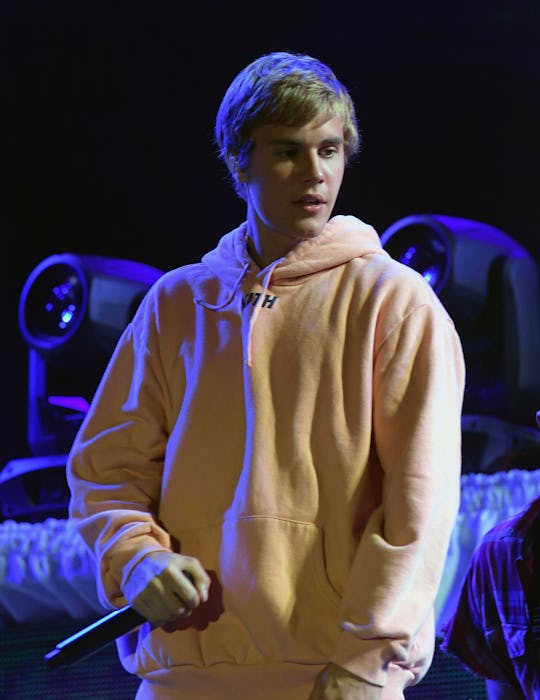 Gustavo Caballero/Getty Images Entertainment/Getty Images
Justin Bieber Has Finally Broken His Silence About Rumors That He's Engaged To Hailey Baldwin
Everyone knows about Justin Biebers's on-again/ off-again relationship with Selena Gomez, so when rumors started swirling about Bieber getting cozy and then engaged to Hailey Baldwin, fans were understandably skeptical. But alas, photos that showed a giant ring on "that" fingers seemed to suggest the reports were true. Now, the pop star himself has addressed the rumors, answering the question once and for all: Are Justin Bieber and Hailey Baldwin really engaged? Let's just say Bieber's latest Instagram post says it all.
On Monday, E! News reported the "Baby" star took to Instagram to share a series of photos of himself and the model. He also shared a pretty important message in the process.
"Was gonna wait a while to say anything but word travels fast, listen plain and simple Hailey I am soooo in love with everything about you!" Bieber wrote. "So committed to spending my life getting to know every single part of you loving you patiently and kindLY. I promise to lead our family with honor and integrity letting Jesus through his Holy Spirit guide us in everything we do and every decision we make. My heart is COMPLETELY and FULLY YOURS and I will ALWAYS put you first!"
He continued:
You are the love of my life Hailey Baldwin and I wouldn't want to spend it with anybody else. You make me so much better and we compliment each other so well!! Can't wait for the best season of life yet!. It's funny because now with you everything seems to make sense! The thing I am most excited for is that my little brother and sister get to see another healthy stable marriage and look for the same!!!
So yeah. If that doesn't scream, "Yes, we're engaged!" I'm not sure what does. Reactions from Bieber's followers seemed to run the gamut. "I love you guys," one Instagram user wrote. "And I'm wondering how cute are you kids going to be."
"I am definitely crying I love them," another follower commented.
"I was skeptical first but all I can say now is wow," yet another person wrote.
And of course, there were plenty of smitten followers lamenting over the fact that it wasn't them who Bieber ultimately chose. "My childhood crush is getting married," one person commented. "This is unreal."
According to TMZ, Bieber and Baldwin reportedly got engaged at a resort in the Bahamas on Saturday night. Two eyewitnesses told the publication they saw the proposal in person at a restaurant on the property. Apparently, Bieber's security told everyone to put their phones away because something special was about to happen. Bieber then proceeded to pop the question in front of everyone.
The singer's parents seemed to cryptically confirm the big news via social media, The Guardian reported. On Sunday, his father, Jeremy Bieber shared a photo of Bieber, also writing, "@justinbieber Proud is an understatement! Excited for the next chapter!"
And on Saturday, Bieber's mom Pattie Mallette simply tweeted, "Love Love Love Love Love Love Love."
As People reported, Bieber, 24, and Baldwin, 21, have only been dating for about a month at this point. However, they have known each other for years — and have even dated in the past. "Justin and I were friends for a long time. I met him when I was really young and he was one of my best friends," Baldwin told a U.K. newspaper,The Times. "Everybody knows that at a certain point in time that turned into something else, but that just happens when you're 18, 19. It was what it was ... we went through a long period of time when we weren't friends."
She added, "We didn't speak for quite some time and there was a lot of weirdness that went on" but that "we've moved past that."
Whatever happened in the past, it's clear that Justin Bieber and Hailey Baldwin are smitten for each other. I wish them the best as they begin this new chapter in their lives. And to those whose childhood dreams of marrying Bieber have just been crushed, I wish you plenty of ice cream and chocolate as you continue to process this devastating blow of your idol confirming he's officially off the market. It's for the best, really.