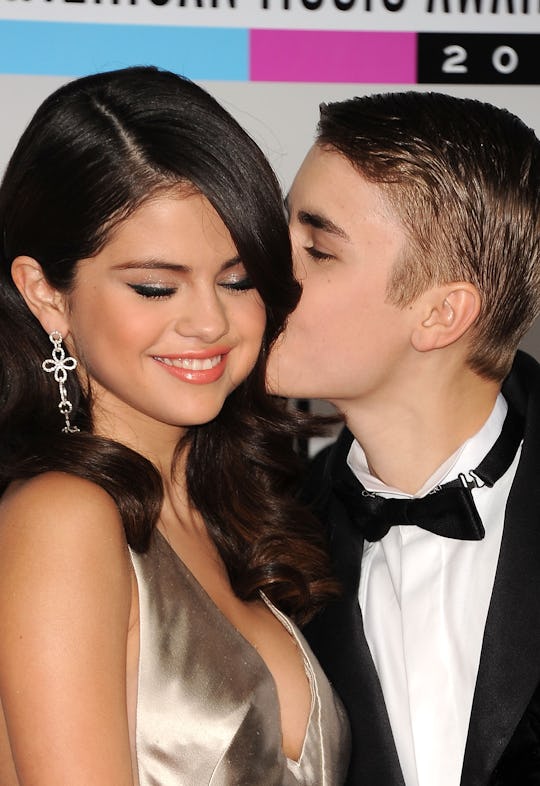 Jason Merritt/Getty Images Entertainment/Getty Images
Are Justin Bieber & Selena Gomez Back Together? It's A Bit Confusing
Though they haven't exactly spent the last few years "going steady," Justin Bieber and Selena Gomez are still a favorite celebrity on-again, off-again couple. Recently Bieber even delighted Jelena fans with a coy Instagram post: a throwback photo of the couple kissing. So are Justin Bieber and Selena Gomez back together? It certainly wouldn't be the first time they've revisited their relationship (at least online).
In the post, Bieber captioned the kiss photo, "Feels." Did Gomez feel the love, too? Gomez reportedly commented "Perfect" on the Instagram post, according to Us Weekly. It's exciting that the two may be talking, but it's not necessarily a relationship indicator.
A previous photo of Bieber and Gomez holding hands appeared back in December on Bieber's Instagram feed, according to PEOPLE; In it, the singer captioned the image, "Crazy throwback." At the time, Gomez was linked to One Direction's Niall Horan, so it didn't seem possible that the photo pointed toward Bieber and Gomez getting back together. In other words, though many fans would certainly be thrilled to see the singers romantically reunited, it doesn't appear as though Bieber's photos are a reliable indicator.
Though Gomez may be willing to comment on Bieber's Instagram photo, recent comments suggest she's done talking about their relationship publicly. In November, Bieber sang "My Girl" and "Sorry" to Gomez leading up to the American Music Awards; In January, Rolling Stone asked Gomez about Bieber's performance, including, "What is happening there, and what is it like to have the world see that?" She didn't welcome the question, explaining,
Well, I am sorry, first of all. And honestly, what I would love to be printed is that I am so beyond done with talking about that, and him.
Jelena got their unofficial start when Bieber and Gomez were seen at an IHOP in December 2010, according to VH1. After a Caribbean vacation in January 2011, the two officially walked the red carpet together for the first time in February of the same year at the Vanity Fair Oscars party. They first ended the relationship in November 2012, but that just seemed to kick off several years of rumors and occasional reunions. Gomez appeared to be a major supporter of Bieber as he navigated PR crises and rekindled his career, but it's unclear whether their friendship is moving toward something more.
For fans who grew up with Bieber and Gomez, their relationship could be real-life fairytale material. But for now, they'll just have to keep an eye on Instagram to see if there's more evidence of Jelena's revival.