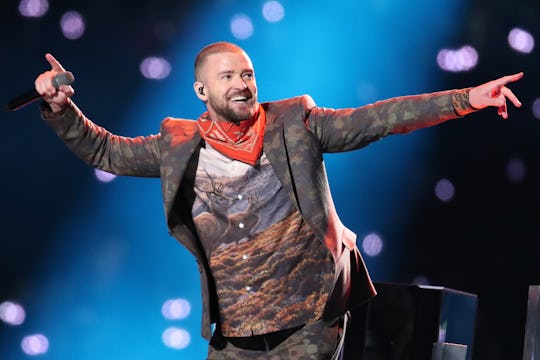 Christopher Polk/Getty Images Sport/Getty Images
Justin Timberlake's Parents Have A Very Good Reason To Attend The Super Bowl
Some people watch the Super Bowl for the sports, however, I watch the Super Bowl specifically for the halftime show. So when it was announced that Justin Timberlake would be performing, I wanted to party like it was 2004. And now that the day has finally arrived, I'm curious about who else (aside from myself) is watching the big game to cheer this former *NSYNC heartthrob on. For example, are Justin Timberlake's parents at the Super Bowl? They certainly have a good reason to attend, considering their son is the main halftime attraction.
But let me back up for a minute here because I'm getting ahead of myself. Timberlake's parents are Lynn Harless and Randall Timberlake. During an interview with The Hollywood Reporter last year, JT went into a little detail about his childhood with them and how his parents divorced when he was in kindergarten. So while I have yet to see them in the stands anywhere on my television screen, it seems like if they are, in fact, at the game, they may not be sitting together. Then again, maybe they have a really great relationship and enjoy each other's company, especially when it's to celebrate their son's success.
There's always the chance the two of them could be watching the game from the comforts of their own respective homes. As someone who hates crowds (even though I live in New York City), I can totally relate to the desire of wanting to stay away from them as often as possible. Then again, considering who their son is, they could probably get pretty awesome seats and not have to go through the usual lines that us mere mortals have to for sporting events.
I'll be on a constant lookout throughout the game to see if I can spot a glimpse of them if the camera catches them, but regardless of whether they're actually physically there or not, it doesn't really matter because I'm certain they're still cheering Timberlake on. In fact, the singer seems to have a great relationship with them, particularly when it comes to his mom. He's posted about her multiple times on his Instagram for Mother's Day and her birthday with captions that sing her praises.
"We have a very special relationship. She's been my best friend since I figured out who I wanted to be," he told Rolling Stone during an interview back in 2003. "She's always been there beside me, and I think that's part of my problem with girls. You keep searching for somebody as good as your mother, and that's a losing battle." So yeah, it's safe to say he kinda loves her, so it's entirely possible she's by his side at the game. The good people of Twitter are sure to spot her if she's there. And let me just point out, it's not as though his family members are opposed to hanging out with him during football games. Not even his adorable Granny, who apparently is a good luck charm.
And as for his dad, even though I didn't find any photos of him on Timberlake's social media, I'd say their relationship has to be on fairly solid footing considering that Timberlake named his son Silas Randall Timberlake. Notice the middle name? It's the same as his father's.
So regardless of where they are (or aren't) this Sunday night, I have the full confidence that JT knows how much his parents love him and that they're so proud of all that he's accomplished — including performing for a second time during the Super Bowl Halftime show.
Check out Romper's new video series, Romper's Doula Diaries:
Watch full episodes of Romper's Doula Diaries on Facebook Watch.