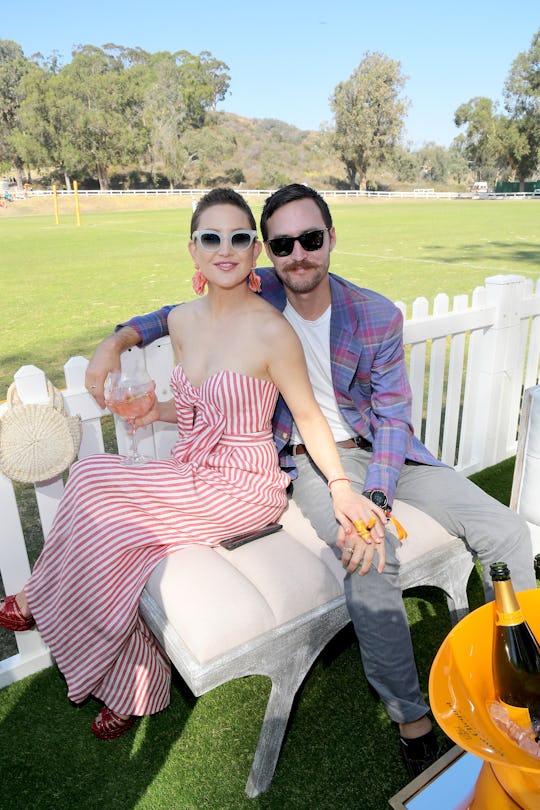 Charley Gallay/Getty Images Entertainment/Getty Images
Here's What's Known About Kate Hudson & Danny Fujikawa's Current Relationship Status
In case you missed the happy news, Kate Hudson and her partner, Danny Fujikawa, welcomed a baby girl into the world on Tuesday. The couple named the baby Rani, and the pair is over-the-moon about their family's new addition. But amid all the excitement, some fans can't help but wonder whether Kate Hudson and Danny Fujikawa are engaged. Although it's really no one's business, the curiosity surrounding the couple is understandable considering they just welcomed their first child together.
Hudson and Fujikawa released a joint statement to Instagram on Wednesday announcing Rani's arrival. "We have decided to name our daughter Rani (pronounced Ronnie) after her grandfather, Ron Fujikawa. Ron was the most special man who we all miss dearly", according to E! News. "To name her after him is an honor."
The cute message continued: "Everyone is doing well and happy as can be. Our family thanks you for all the love and blessings that have been sent our way and we send ours right back."
Aww. It sounds like the two couldn't have picked a better name for their precious daughter.
Rani joins older brothers Ryder Robinson, 14, and Bingham Hawn Bellamy, 7.
Considering Hudson and Fujikawa just cemented their connection as parents, some fans may want to know if the two have talked about marriage.
The last engagement rumor about the pair surfaced in January, after Hudson was supposedly spotted wearing a ring on that finger while riding motor bikes with Fujikawa. A source close to Hudson, however, later told People that the rumor wasn't true.
If Hudson and Fujikawa do decide to get engaged, it will probably happen later than sooner. It did take the two 15 years to get together, after all.
"We've known each other for 15 years; he's my best friend's stepbrother," Hudson shared, according to Harper's Bazaar. "We kinda skipped through the part of knowing what the hiccups were. You kinda skip the part of going, 'Oh, you're like that?'"
But that wasn't the first time Hudson opened up about their slow start. She said in an Instagram post about their foray into dating, according to TooFab:
A year ago today Danny took me on a hike and what I thought was just a hike with a family friend turned very quickly into an unexpected first date. No moves were made on this first date. In fact, it took months for him to make the first move!
The upside to the couple's careful romance? Hudson has gotten to know Fujikawa's family really well.
"In terms of family, I've known his family forever," she explained, according to People. "To have that connection is really powerful."
Of course, each person is different when it comes to marriage. Hudson and Fujikawa are under no obligation to tie the knot now that they have a child together, and it's fine if they haven't discussed this possibility yet. What's important is the love the two have for one another and their new baby girl, a sentiment Hudson touched on in a June Instagram post celebrating Fujikawa's birthday. "#Loveofmylife," Hudson captioned the shot.
Yep, it's clear Kate Hudson and Danny Fujikawa couldn't be better suited for one another. Congrats to the couple on their many joys in life.