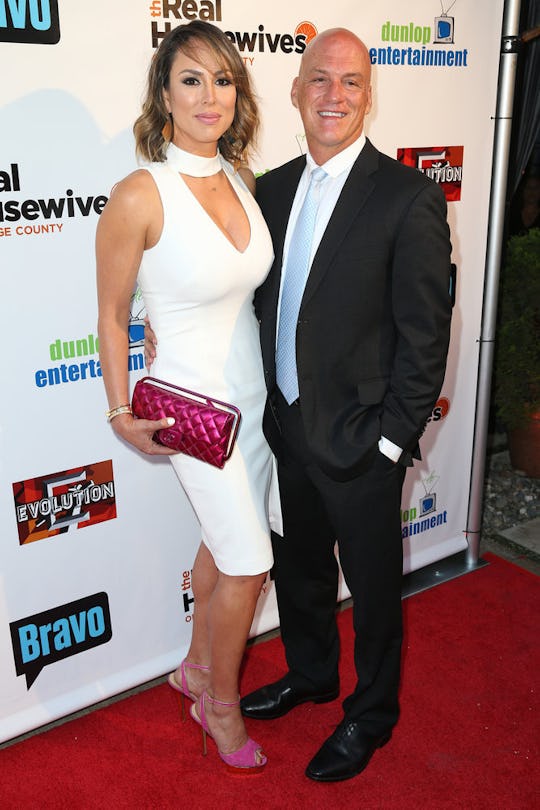 Joe Scarnici/Bravo
Are Kelly Dodd & Her Husband Still Together On 'Real Housewives'? They've Worked It Out
On The Real Housewives of Orange County, newbie Housewife Kelly Dodd admitted to her new TV friends that she and her husband, Michael, have had more than their fair share of issues. Maybe she was trying to get the jump on any of the other ladies who might have something to say about her (cough, cough Shannon), or maybe she's just incredibly open, but we sure learned a lot about the inner workings of their occasionally very troubled marriage, including the tidbit that Michael Dodd was once diagnosed with Narcissistic Personality Disorder, and that during their two year separation Kelly was actually engaged to someone else. Are Kelly and her husband still together now? It looks like they've managed to pick up the pieces and stay together.
Kelly's living situation is a little kooky to begin with. She lives with her daughter, her mother, her brother, and also her husband who recently cashed out of his high ranking position with LeapFrog. Not only is Michael suddenly living a life of "leisure" as Kelly put it, now constantly at home, but they still have to learn how to make their marriage work. Kelly even went so far as to compare him to Hitler at one point. However, she said there were many reasons she decided to try and make her marriage work, not least of which is the couple's young daughter, Jolie.
As of right now, Kelly and her husband are still together, and if her social media is any indication, the couple is extremely happy (not to mention adorable) together. Kelly has said on the show that while she fell immediately in love with Michael when they first met, their relationship changed after they were married. She said that he became suddenly controlling. After two years of separation and painful divorce proceedings, Kelly decided to go back to her estranged husband.
Kelly may be new to Bravoland, but she's learned early that there is very little that it is possible to keep secret from the cameras. Most Housewives tend to be open about their personal issues, because at the end of the day, that's what the Housewives is all about. We've seen inside the most difficult days of Jules Wainstein, Phaedra Parks, Cynthia Bailey, and of course Vicki Gunvalson's relationships. Kelly just decided to tell us rather than show.