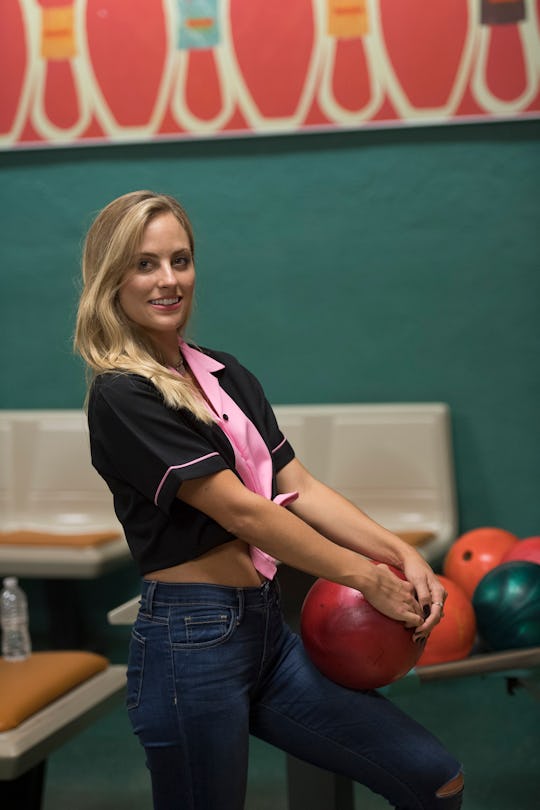 This Clue May Prove Kendall & Arie Are Still Going Strong After 'The Bachelor'
I'm not going to lie — I was a little surprised that Kendall, the taxidermist aficionado and set dresser from Los Angeles made it all the way to the Fantasy Suite dates. Don't get me wrong, she's great. But her relationship with Arie didn't seem as developed as his relationships with the other women at all, and well, the taxidermy thing is a little difficult to get used to. But Arie didn't seem to mind, which now has me wondering if Kendall and Arie are actually engaged on The Bachelor. After all, if a man isn't running away from you while stuffing a dead mouse, there's gotta be something there, right?
Of course, we won't know until the very end who Arie ends up picking, given the strict contract that contestants are under about not spoiling the show for the entire world. But there are a few clues about Kendall and Arie interacting since the show's been on the air that makes me think she might be the one.
Arie does end up telling two women that he loves them, according to People. He said that he didn't realize he was "capable of that." The 36-year-old added, "I've never been in that situation, and it was really hard. And they were two very different women, and that's what made it even harder."
According to the promos for the final episodes, things get really heated at the end, as they always do. So which woman does he actually end up with?
Arie wrote in his blog for People that it was very much attraction at first site with Kendall. He said of their hometown date before going in to meet her parents:
I wanted to get some time to chat with Kendall about where we were in our relationship. Compared to the other remaining women, we had a bit of a late start. This was actually our first one-on-one. Because of this, it was important for me to tell her that I was falling for her. For me, our relationship had blossomed far beyond our extreme physical chemistry and into something more.
On Valentine's Day, Kendall seemed to in a very lovey-dovey mood, which makes me think she's either got a great attitude or was snuggling up to Arie while tweeting:
It's amazing to me that we, as humans, have the ability to feel so strongly. To have the capability of heightened emotions is such a gift! And I see it in so many other species on this crazy planet. How breathtaking it is to love and have the chance to be loved in return.
That sounds like the V-Day message of a gal with a ring on her finger.
The biggest sign that they might be together right now, or are at least friends, is that Arie mentioned her in a tweet! This could just be playful and fun, of course, but I feel like tweeting someone you might have broken up with on live television means you keep your distance for a safe amount of time. He made a joke about how the hometown dates episode aired extra footage of him and Kendall playing with their little stuffed mice. Clearly this means they're both on good terms, right — or perhaps even an indicator that they're still together?
There's not a rock solid case that these two are still a thing after the show, but there are a few little, but telling signs that it might be true love for this couple after all.
Check out Romper's new video series, Romper's Doula Diaries:
Watch full episodes of Romper's Doula Diaries on Facebook Watch.