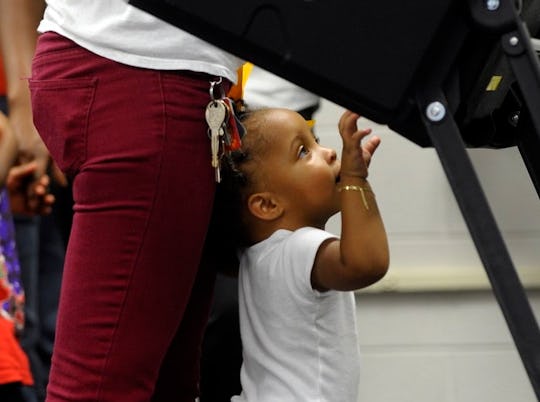 Sara D. Davis/Getty Images News/Getty Images
Are Kids Allowed In The Voting Booths? Here's What Parents Need To Know
With midterm elections coming up, many people are preparing for their trips to the polls. Voting can sometimes be complicated to navigate, especially if you're a parent with kiddos around on that day. As the midterm elections approach, parents might be wondering, for instance, if kids are allowed in the voting booths with them. Before you head out to the poll in November, here's what you should know about voting day.
Midterm elections will be held on Tuesday, Nov. 6 in the United States. Although 2018 isn't a year for presidential elections, there are still a lot of government positions up for election at all levels, according to The Independent. In the United States, people tend to fixate on presidential elections, but state and local politicians have a lot of influence over people's lives, too.
During the midterms, as outlined by the USA.gov, "voters elect one-third of all U.S. senators and all 435 members of the U.S. House of Representatives during the midterms." And 2018 is also a year for gubernatorial elections for many states, as reported by 270 To Win. Gubernatorial means that it's a governor election, and Ballotpedia reported that 36 states will hold elections for governor on Nov. 6.
One of the most important challenges around voting is ensuring that it's accessible to all American citizens. So, what does that mean for parents?
If you're concerned about scrambling to find childcare in order to vote, hopefully this will help take some stress away. Children are allowed to join their parents at the polls in every state, as well as Washington, D.C., according to the Girl Scouts.
Before you rush to the polls, though, it's important to take note of where you live and what the specific rules might be there. Every state does have to allow children in, but states do place their own age limits. To some states, a minor may be anyone under 18, but others have earlier cut offs. In addition, each state may have different rules for how many children are allowed in the booth with you.
For example, according to Maryland.gov, "you can bring one or two children under 18 years old with you to vote. Under Maryland law, the children can accompany you as long as they do not disrupt or interfere with normal voting procedures." On the other hand, Virginia's Department of Elections noted that voters have the right to "bring your minor child (age 15 or younger) into the voting booth".
It's a good idea to call your local election commission to see what rules apply to your state.
Bringing children to the polls can be a great educational opportunity. It allows them to see the voting process in action, which is pretty important. But, you should still do a little work beforehand to prep your child for the polls.
As many voters know, the lines at some polling stations can get incredibly long. Make sure that your child is aware of this and let them bring something to entertain themselves. In addition, prepare them for rules of etiquette that they may not know about. Your child may be super excited about a candidate, but they can't tell other people in line who they should or should not vote for. As outlined by Girl Scouts, that can fall under "electioneering", which isn't allowed near the polls.
It's also important to be remember that photos are a no-no, as noted by What To Expect. It may be tempting to take a picture of your child inside the polls to capture the moment, but according to What To Expect, most states prohibit use of cameras, cellphones, and other audio or video devices in and around the voting booth.
There is one fun thing that your child can look forward to! If your child is old enough, and depending on your state's rules, they're allowed to cast your vote on your behalf, according to What To Expect. They means they can pull the level or push the button after you've made your choices.
Voting can be stressful, so there's no pressure for parents to bring their kids if they choose not to. It is still a great learning opportunity for many, though. And, for some parents, bringing their kids is the only way they'll be able to vote.
If you're not a parent and happen to see any kids at the polls, remember that they have every right to be there — just like you.