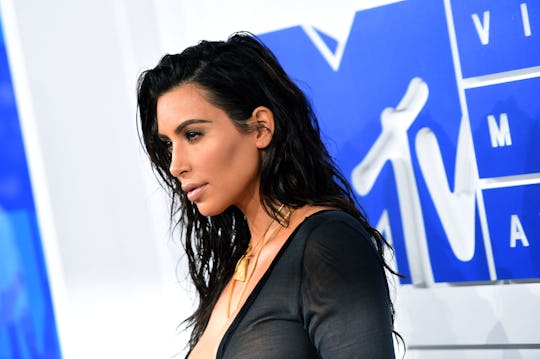 Larry Busacca/Getty Images Entertainment/Getty Images
Are Kim Kardashian & Her Surrogate Close?
In July, reports broke that Kim Kardashian and Kanye West were expecting their third child via a surrogate. As expected, Kardashian's fans are ecstatic about the news, and people have a ton of questions about the surrogate. Most of all, people are wondering if Kim Kardashian and her surrogate are close. Although Kardashian is generally an open book, it looks like she's choosing to remain private about her surrogate and their relationship. Romper has reached out to Kardashian and is awaiting a response.
Following Kardashian's terrifying Paris robbery incident in October, she became more private about her personal life and the ongoings of her children. Now that Kardashian is more tight-lipped about her family, it makes sense that fans don't have a lot of information about Kardashian's surrogate. On an episode of Keeping Up With The Kardashians, Kardashian said this about surrogacy, according to Vanity Fair:
The best thing: I could have a new baby and have no one know and live my life for a good year before we announce it.
Yep, it's pretty likely fans won't know anything concrete about Kardashian's surrogate for the time being. Although fans don't know if Kardashian is BFFs with her surrogate, it's safe to assume the two communicate often. According to TMZ, Kardashian's surrogate must follow a strict set of guidelines, and she is prohibited from going into hot tubs or saunas, among other things. Considering Kardashian is concerned about the surrogate's daily activities, it's probable that she checks in with the surrogate quite regularly. One would imagine Kardashian has her surrogate on speed dial.
Day-to-day issues aside, it's likely Kardashian and her surrogate have a lot to talk about given their similar backgrounds. According to Us Weekly, the surrogate is a "San Diego mom in her late 20s." As fans of Kardashian already know, her grandma, Mary Jo Shannon, lives in San Diego. When Kardashian was a kid, she regularly visited San Diego with her family. Who knows, maybe Kardashian's surrogate has even shopped at Shannon's kid-friendly store, Shannon & Co Childrens Boutique.
It's also a good sign that Kardashian's surrogate is already a mom. The two can exchange anecdotes on motherhood, pregnancy, and parenting in general. Even if Kardashian isn't super close with her surrogate, they definitely have commonalities that should make their relationship strong.
For now, it looks like fans will have to wait to hear more about Kardashian's relationship with her surrogate. Although the public knows very little about Kardashian's surrogate, it's likely the two have a special connection given the situation and their shared experiences. Even if the the two don't form a lifelong friendship, it's probable they'll have a lasting bond.