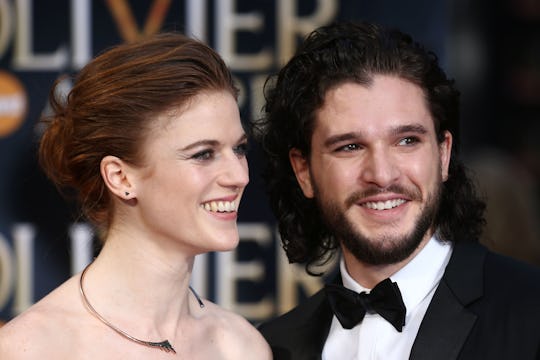 JUSTIN TALLIS/AFP/Getty Images
Are Kit Harrington & Rose Leslie Dating? They Found Love On The 'Game Of Thrones' Set
Game of Thrones fans may know Kit Harrington and Rose Leslie better as Jon Snow and Ygritte. In Season 2, 3, and 4 of the wildly popular HBO show, Harrington and Leslie heated up the screen with their passion, whether out of hatred, love, or maybe a little of both. But what happened to that passion off-screen? More importantly, are Kit Harrington and Rose Leslie dating in real life?
Harrington's character on Game of Thrones, Jon Snow, can be a sneaky fellow. Sure, he's honorable and brave, but he sometimes he stretches the truth to protect the ones he loves. The same, apparently, can be said of Harrington himself: Amid rumors of a budding relationship with Leslie back in 2014, Harrington told the Evening Standard that it was "all rumour and myth", and nothing else. "Me and Rose are very, very close and very good friends," he said. "And [we] continue to be, actually. She's wonderful. But no, no love affair." Sure, Harrington, sure. Fans knew the truth.
Since then, the couple has left all semblance of secrecy by the wayside. They're out and about and they don't care who sees! Recently, the couple was even caught smooching at a gathering at the Hackney Showroom in London. It's odd to see them in everyday clothes instead of Wildlings garb, but one must admit they look pretty cute.
And that's not all! Over the weekend, Harrington was a guest on the Jonathan Ross Show, where he was asked, straight out, about his love life. Ross said, "You fell in love in Iceland," and Harrington responded, "I fell in love with my co-star." In his typical bantering tone, Ross said that he had met Leslie and that she's a "lovely girl" who could "do much better."
Finally, on Sunday, Harrington and Leslie made their first red carpet appearance as a couple, walking hand and hand to the Olivier Awards, all smiles. Both looked stylish and, more importantly, very happy. For all of those Game of Thrones fans who were heartbroken when Ygritte died and wanted more than anything for everything between her and Jon Snow to end happily ever after, this is pretty much a dream come true. The two star-crossed TV lovers are in love in real life, and no White Walkers can stop them.
So, while fans may not know if Jon Snow is dead or not, it's pretty clear, beyond rumors and doubts, that he's dating his former co-star. Just goes to show you can still get pretty far in life even if "you know nothing."