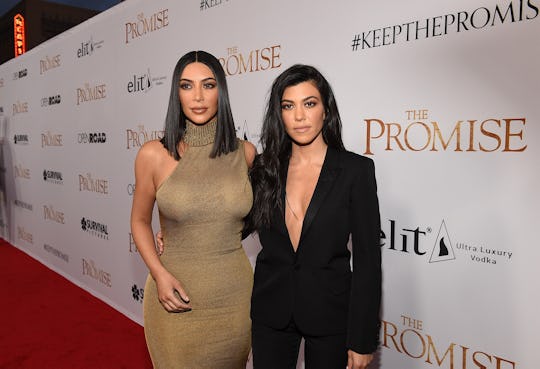 Kevork Djansezian/Getty Images Entertainment/Getty Images
Here's Where Kim and Kourtney Stand After This Season Of 'KUWTK'
In the beginning of this KUWTK season, sisters Kim and Kourtney got in a major tiff. But that was months ago — both when it aired and when it was filmed. So, are Kourtney and Kim getting along now after KUWTK? They may have settled their beef.
I'm going to be honest: I think everything is fine between Kim and Kourtney, and that their on-screen fight was probably played up. Do Kim and Kourtney have real and potentially hurtful fights in from of the camera? I'm sure they do; siblings fight, that just comes with the territory! But I don't think any petty fight between them would end their relationship, or anything that dire. They may be mad at each other for a bit but at the end of the day, they love each other — and work together, so they're with each other all the time.
Just a couple weeks ago on KUWTK, Kourtney (and Khloé) surprised Kim with a flash mob. Kourtney wanted to do it to "embarrass" Kim because a dance class they took didn't go well. Listen, if I wanted to embarrass someone, I wouldn't pay dozens of people to dance for me! I'm not Kourtney, but I bet if she really wanted to embarrass Kim she wouldn't do it via flashmob. That, partnered with Kim's recent throwback Instagram photo, signals to me that everything is good (for now, at least).
That wasn't the case at the beginning of Season 15 of KUWTK. It all started in childhood — just kidding, I don't have that kind of time. The fight that triggered their Season 15 beef happened over the scheduling of Christmas card photoshoots. The Kardashians, they're just like us! But of course, underlying the petty fight was a bigger issue between them. Kourtney believed that her sisters weren't there for her, and this was just another example.
Kourtney cried to Khloé about Kim on the phone, saying, "I'm not here to be mistreated by my f*cking b*tch family. Kim saying that I'm the least interesting to look at — who even speaks like that? You don't say things like that. You guys just have really different values than me. I choose to be a mother to my three kids. I'm not here looking for another job. I already work enough — more than I would like to."
But did the sisters hash it out by the time the episode premiered? Nope, because the Kardashians had a Twitter fight in real-time to the episode. On the show, Kourtney eventually asked for them to go to therapy. Their younger sister Kendall became involved when she was hanging out with Kourtney and Kim called her out about it.
At the end of the day, though, this isn't the first KarJenner feud and it won't be the last. Perhaps at the end of all this, Kourtney won't be as involved with KUWTK as she said might be the case. After all, constantly being around your family is rough. I don't work with my family, but I imagine when you spend all your work time and most of your leisure time with them, feuds are bound to bubble up. Currently, though, it seems like the peace is kept — for now, anyway.