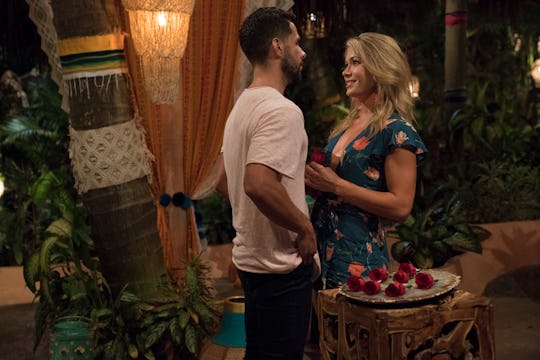 Paul Hebert/ABC
Krystal & Chris May Be One Of The Engaged Couples After 'Bachelor In Paradise'
Chris and Krystal may have been pegged as the "villains" on their respective seasons of The Bachelorette and The Bachelor, but the way they hit it off on Bachelor in Paradise suggests anything but villainous behavior. There may have been a little overlap with Chris's relationship with Tia at first, but as it stands on this season, Chris and Krystal seem to have found something real and lasting with each other. So, are Krystal and Chris engaged after Bachelor in Paradise? Judging by the promos for the season finale and reunion special immediately following the episode, there's at least one proposal in Paradise. So there's definitely a chance that the couple are now engaged.
There are no definite clues on either of the cast member's Instagram accounts, but that's standard within Bachelor Nation. There has been, however, an influx of Bachelor in Paradise posts on Chris's Instagram. Take that how you will, but I choose to believe that true love is the reason for all of his recent photos of himself and Krystal from Paradise.
In the caption of one post after Monday's BiP episode, Chris wrote, "[Krystal] missed Wayne and Chucky back home so I made sure they could make an appearance in [Bachelor in Paradise]. Always make sure you listen to the people you love. The smallest things can bring them happiness beyond measures. Love you [Krystal]." So the "L" word came up more than once in that post, which suggests the couple at least haven't broken up. In my professional opinion that means they are likely one of the engaged couples that came out of Bachelor in Paradise this season.
Then again, it's not a sure thing that Krystal and Chris are newly engaged. Right now, it seems like Jordan is more ready to take the engagement leap than any other guy left on the show, so perhaps it's Jenna and Jordan who get engaged on the Bachelor in Paradise finale. That being said, Chris and Krystal have been super connected since they first met at the beginning of the season, so there's no doubt in my mind that they stayed together once Bachelor in Paradise ended.
The whole reunion proposal idea isn't anything new, which is why I could see one of the guys doing it this time around. After The Bachelor Winter Games, Benoit and Clare reconnected and got engaged at the reunion — despite breaking up on the show. Things didn't last for them much longer beyond that for that couple, but I have high hopes for Chris and Krystal.
Without any real hurdles this season, their relationship seemed to go pretty smoothly and things have just progressed at what seemed like a natural pace for them. In the promo for the finale, Krystal and Chris both voiced concerns about their future, so they could mutually agree that getting engaged on Bachelor in Paradise isn't the right move for them. But since they look cozy on the couch on the reunion special, there's a good chance they're still together. And hopefully, that means they're also engaged.