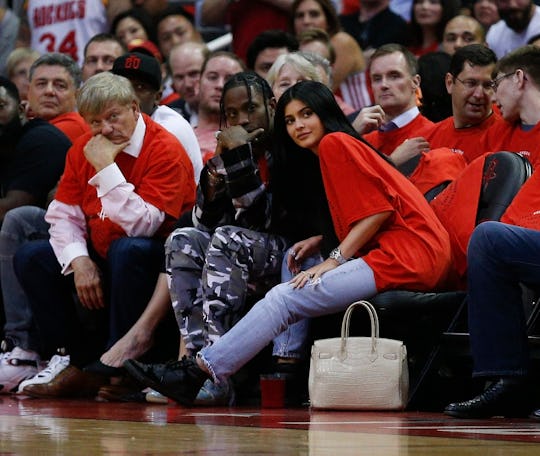 Bob Levey/Getty Images Sport/Getty Images
Fans Think Wedding Bells Are In Kylie & Travis' Future, Thanks To This New Photo Of Baby Stormi
Stormi Webster is officially 1 month old today and proud mama Kylie Jenner posted some photos on Instagram on Thursday to commemorate the special day. While most eyes were immediately drawn to baby Stormi nestled in her mom's arms, some eagle-eyed fans think they spotted something pretty telling on that finger. Now, of course, fans are wondering if Kylie Jenner and Travis Scott are engaged.
Kylie took to Instagram on March 1 to share a sweet series of pictures of her holding her little one while rocking a camo sweatsuit. The pics are obviously super sweet and Kylie looks absolutely fierce in it, but that's not what fans noticed. From the looks of it, the 20-year-old is sporting a ring, which could be a diamond, on her left ring finger, which, ya know, could indicate that she's engaged to her boyfriend Travis Scott. At least that's what fans think. Romper's requests for comment from both Jenner and Scott's reps were not immediately returned.
But, because it's Kylie, nothing can be known for sure until she actually says so herself. And as that's highly unlikely to happen anytime soon, contemplating what that ring might mean is just a lot more fun. Of course, this isn't the first time that Kylie has sparked engagement rumors, and it probably won't be the last. Nevertheless, fans have ~*theories*~.
A lot of fans commented on Kylie's post with something along the lines of, "engaged?" or "engagement ring?" Which is honestly a fair question. The ring is totally on the correct finger and it appears to be different than the one she flaunted back in November, which she also never commented on.
But this time, it feels different, doesn't it? After all, Kylie and Travis are now parents, and even though they aren't living together, as a source told People last month, they definitely seem like a happy little family. In fact, according to the source:
Kylie and Travis are not officially living together. He has his own place. They are co-parenting though, and things are going great. They are together and happy.
So maybe they wanted to wait to get married before living together, or even just until they were engaged? Honestly, who knows? One thing is for sure, and that's that Kylie's latest Instagram post has fans convinced that there was a proposal.
Whether or not Kylie and Travis are engaged, it seems pretty clear that the two are both seriously happy with their little family. Earlier on Thursday, Travis also took the time to celebrate Stormi being 1 month old, posting a super sweet video to his own Snapchat. Additionally, the rapper has totally spoiled Jenner since she gave birth to their child, sending her an almost ridiculous amount of flowers to represent Stormi's time of birth (yes, 443 roses), but that's not all. Kylie also shared more flowers her "baby daddy" sent to her for Stormi's 1 month birthday on her Snapchat Thursday afternoon.
Clearly, the couple is totally in love, and so it isn't surprising that fans are assuming they're now engaged. Of course, Kylie also had fans thinking that she was engaged to her ex, Tyga after he gave her a promise ring. While they were dating, Tyga gifted Kylie a huge diamond promise ring, and she posted the bling on Snapchat, writing, "If this is a promise ring, I want to know what my engagement ring is gonna look like," according to People. So, maybe that's all this new jewelry is, just a promise ring or simply a gift. After all, it isn't nearly as big as her previous jewels, and she hasn't posted about it at all, really.
So, as fun as it is to wonder whether or not Kylie is actually engaged, fans probably shouldn't get too excited. She might just be being Kylie, y'all.
Check out Romper's new video series, Bearing The Motherload, where disagreeing parents from different sides of an issue sit down with a mediator and talk about how to support (and not judge) each other's parenting perspectives. New episodes air Mondays on Facebook.