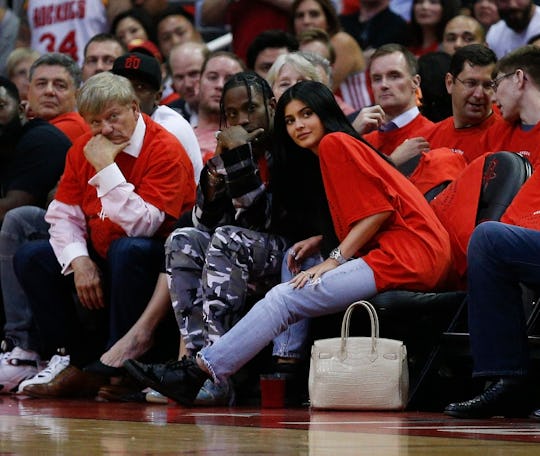 Bob Levey/Getty Images Sport/Getty Images
Are Kylie Jenner & Travis Scott Still Dating? This Photo *Finally* Has The Answer
When it was first reported that Keeping Up With The Kardashians star and makeup mogul Kylie Jenner was pregnant with boyfriend Travis Scott's baby this past September, Jenner was silent and remained silent about the news. In addition to refusing to talk about her rumored pregnancy, Jenner refused to say much at altogether, taking a step back from her active social media accounts and limiting her activity. Without any recent interviews or photos, its hard to even know if Kylie Jenner and Travis Scott are still dating. Luckily for fans, recent photos photos confirm at least one thing that Jenner and Scott won't say.
On the night before Christmas, Kim Kardashian and sister Khloé Kardashian took to Snapchat to document their mom, Kris Jenner's annual holiday party. But one very popular person was noticeably absent from their stories — Kylie. But on Christmas Day, Kylie admitted, in an appearance on Khloé's Snapchat that she was alive (thank goodness) and was attending the party, much to the doubt of fans.
Photos that have since surfaced from that evening show that Kylie was not only at that party but she was there with one very special guest — Travis, himself. Kylie and Travis pose together in photos from that night, looking very much like a couple. If there were any doubts about their relationship, then these photos definitely put the kibosh them.
Fans shouldn't panic, because it is clear that they're still together or that everything is cool between the two of them — but it is understandable as to why some people might believe the couple is no longer together. With Kylie's relative silence on social media lately, and Travis not obviously posting anything about Kylie on his social media, it is hard to know anything about their life as a couple. But sources told People that the couple is very much still together and "absolutely excited about the baby."
But this silence isn't out of the ordinary. Since the beginning of their relationship in April, according to Us Weekly, both Kylie and Travis have maintained high levels of secrecy, with photographers getting glimpses of the couple during their public outings. And with Kylie limiting her public appearances altogether, its hard for anyone to get a good look at them together.
Kylie hasn't said much about their relationship, even before her rumored pregnancy was first reported. During the first season of her show, Life With Kylie, Kylie remained coy about who she was seeing but confirmed that she was happy with the person she was seeing (which was Travis). Kylie said, according to E! News:
Now, it's like I feel like I can be more myself. I feel way more free. I'm like, really, genuinely happy right now.
Although in 2017, some people believe that relationships aren't considered to be "official" until the relationship is confirmed on social media, there is no need for anyone to suspect the worst. Pregnancy or not, there has to be a reason for Kylie limiting her activity on social media and fans need to respect that. Kylie has said in the past, according to People, that social media is a "really mean, negative space" for her and that she would quit Instagram altogether if she had a kid. While many people hope that wouldn't be the case, it is a possibility that people might have to get used to not knowing every detail about Kylie's life and that is OK.
There is no telling what 2018 will bring to Kylie and Travis (especially without them confirming or denying the rumored pregnancy). Only time will tell what the future holds for the two of them.
Check out Romper's new video series, Romper's Doula Diaries:
Watch full episodes of Romper's Doula Diaries on Facebook Watch.