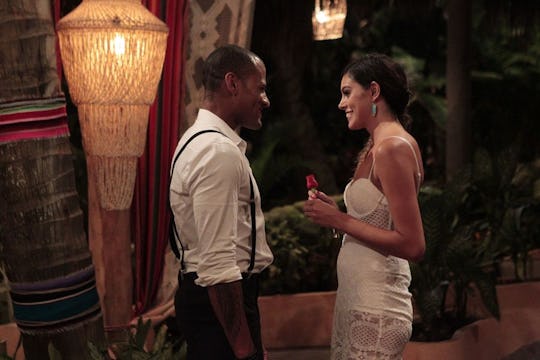 Rick Rowell/ABC
Are Lace & Grant Still Together After 'Bachelor In Paradise'? They're A Strong Couple
It's only week four on Bachelor in Paradise but Grant Kemp is already spilling those three little words to Lace Morris. After a couples' massage they dipped into the teeny tiniest pool (bath?) known to man and awkwardly held their cocktails above the water as Grant confessed his love and Lace tried not to cry off her eyelash extensions. As touched as she was, she didn't return the sentiment right then and there. And promos for upcoming episodes show things might be getting shaky for the solid couple. So are Lace and Grant still together after Bachelor in Paradise?
Despite a Chad-shaped speed bump in the very beginning of the season, Grant and Lace have been one of the more steady couples in paradise. And despite the trouble the promos have hinted at, it seems like they remained that way after leaving the show – if offscreen gossip is to be believed, anyway. TMZ snapped some pictures of Lace and Grant hanging out poolside in her home state of Colorado, which may not mean anything at first glance. Lots of the Bach contestants go on to become good friends and hang out when cameras aren't rolling. However, TMZ also snagged a picture of Lace at the airport with a telling new tattoo on her wrist: Grace, a.k.a. her and Grant's couple portmanteau. Apparently, Grant has a matching one.
If all of this is true, then that means Grant and Lace will leave paradise engaged. Though nothing can be confirmed until the show ends (any couples who stay together after filming finishes have to keep it under wraps for a little while to avoid spoiling everyone about the outcome), social media certainly makes it seem like Grant and Lace are still on good terms. They're majorly into the their #Grace brand, and they make plenty of posts on Twitter and Instagram showing support for their relationship. It could just be support for the show, but based on everything else it seems more likely that they're still together.
When Izzy Goodkind tweeted about sitting out Monday's episode (considering things got pretty rough for her and Vinny), Lace retweeted it with the addition "#grace too." That would seem to imply that they either usually watch together and therefore were sitting the episode out together, or that Lace knows what Grant is up to enough to know he didn't watch. So they're definitely still in contact, which adds another point to the engaged column. (Though, again, they could still just be friends.)
Could Lace and Grant be the next BiP success story? It's hard to say, but as of right now things are looking good.