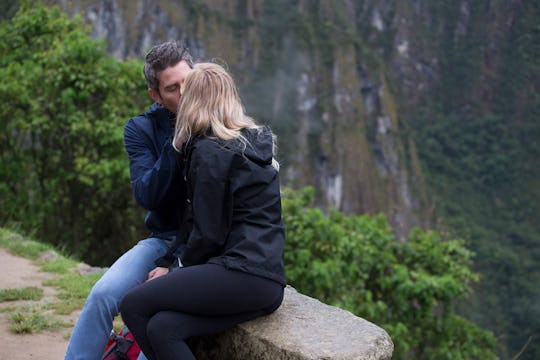 Paul Hebert/ABC
Lauren B. & Arie Reunited On 'After the Final Rose' & 'The Bachelor' Couple Seem To Already Be Making Plans
Arie had the second change of heart in Bachelor history in the sense that he ultimately chose the runner-up after he already picked the winner. So now that he broke up with Becca in favor of Lauren, are Lauren B. and Arie living together after The Bachelor? After the Final Rose just confirmed that they are together.
Arie had one of the most controversial endings of Bachelor history. It's most comparable to Season 13's Bachelor, Jason Mesnick. Mesnick also regretted the winner he chose, and wanted to be with the runner-up instead. The way he did it, however, was a bit different. Instead of breaking up with the supposed winner, Melissa Rycroft, several weeks after the proposal, he chose to do so on After the Final Rose. Up until then, Melissa had no idea he was still thinking about his former runner-up.
On After the Final Rose, though, Jason had to admit that he didn't want to be together anymore. And it wasn't just that they were splitting up; he wanted to get back together with runner-up Molly Malaney. While he didn't propose to Molly then, he did ask to get back together. In the end, they did just that, and then some. Jason and Molly got married and are still together eight years later.
The fact that Arie fell in love with two women has been public knowledge practically since the season began, but Bachelor Nation (well, those who don't read Reality Steve, anyway) didn't pick up that Arie "pulled a Mesnick" until now. In December — before the season began airing on New Year's Day, and probably before he broke up with Becca — Arie told People, "I fell in love with two women, and I didn't know I was capable of that...I've never been in that situation, and it was really hard. And they were two very different women, and that's what made it even harder."
Well, a few days (or weeks, the timeline is murky) after this interview, Arie went back on his original proposal and sought to get back together with Lauren. On After the Final Rose, viewers saw them reunite. Arie went to Lauren's home in Virginia to get back together with her, and she was delighted... she even suggested that she wanted a proposal, and soon.
Seeing as Arie lives in Arizona and Lauren lives in Virginia, has one of them moved? Are they both in one of those places, or another place entirely? On After the Final Rose, Lauren revealed that she'll be moving to Arizona to be with Arie. But first, they're going on vacation to get out of the country for a little bit. As of now, though, it seems that they're in their respective states. Like The Bachelor couples, they had to be pretty secretive — probably even more so than usual because of the circumstances.
In addition to revealing they Lauren will be moving to Arizona, Arie took the time on After the Final Rose to propose to Lauren and make it all official. I'm... not thrilled, and neither are some members of Bachelor Nation. Regardless, they seem to be in love, so more power to them.
It's probably a good thing that they are staying in Arizona and not moving to Los Angeles. Earlier on the special, Jason offered some advice to Arie, and said that he should stay out of big cities for awhile. He and Molly faced some fate after his Bachelor run, and that was before social media. While I hope it doesn't happen, it's pretty much impossible that Arie and Lauren will be immune to online haters. Despite it all, though, the couple appears as happy as ever and probably can't wait for their life in Arizona to start.
Check out Romper's new video series, Romper's Doula Diaries:
Watch full episodes of Romper's Doula Diaries on Facebook Watch.