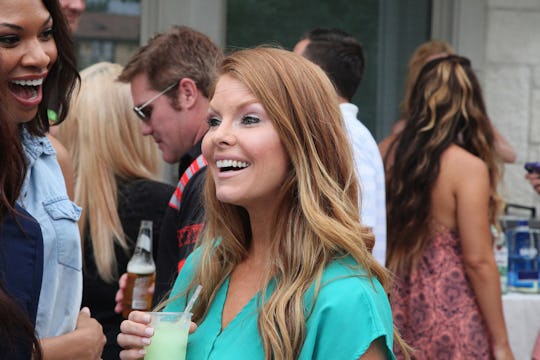 Peter Larsen/Bravo
Are LeeAnne Locken & Brandi Redmond Friends? The 'Real Housewives' Stars Don't Get Along
There's nothing like a good feud to spice up a season of the Real Housewives, and with only its premiere episode to its name, the Real Housewives of Dallas already has a promising one in the wings. While it's probably a little early to be throwing around the f-word (which would be feud), there was certainly a strong disagreement between LeeAnne Locken and Brandi Redmond that could bode well for future drama. Now that filming for the season has concluded, are there any hints as to how the issues between the women resolved? Are LeeAnne and Brandi friends after Real Housewives of Dallas stopped filming?
First, let's take a look at what started the argument. At an AIDS charity event, Brandi decided to do a less-than-flattering impression of LeeAnne, and when LeeAnne heard about it, things went downhill quick. LeeAnne (also known as "the mouth in the South," in her own words) was a little bit abrasive for Brandi's taste, but in LeeAnne's opinion, she was only reacting to what she perceived as an attack. Brandi didn't make things better when she said LeeAnne's intense charity work was selfishly motived and then told LeeAnne she "needs help." Also not helping? LeeAnne being super condescending about Brandi not being as experienced in Dallas society because she's a stay-at-home mom. Yikes.
LeeAnne didn't think Brandi took charity work seriously, either. It seems like both women are at something of an impasse, but are there any signs that they've been able to work things out? Brandi recently wrote a blog post for Bravo about the incident that would seem to imply that their issues haven't blown over. She makes a big point about how LeeAnne "has been known to make people feel threatened or uncomfortable" and goes so far as to call her a bully. She also wasn't here for LeeAnne's snide comment about Brandi being from Plano.
That's only one side of the story, however, and the problems between the ladies go both ways. Social media hasn't shown much interaction between the two and that seems to indicate that their issues might be a season-long story. Both ladies have already proved themselves masters of the backhanded compliment (the pure undiluted shade of "you're sweet as pie" is a wonder to behold), so it seems to me that this conflict is going to be a good one.