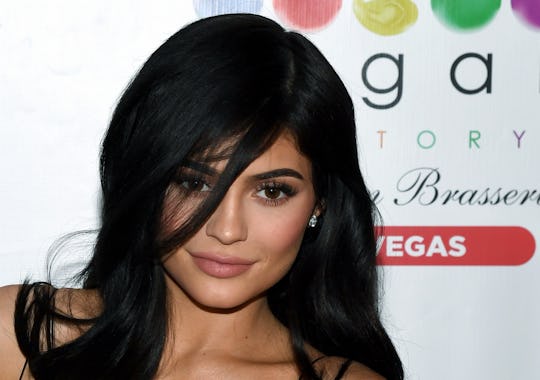 Ethan Miller/Getty Images Entertainment/Getty Images
Are Lip Injections During Pregnancy Safe? Kylie Jenner Fans Have Concerns
There are a ton of things moms-to-be have to worry about when it comes to having a safe pregnancy and delivery. And it sounds like Kylie Jenner might have one concern that many pregnant mothers don't usually have to watch out for. Kylie has rather famously had lip injections, and now that she's allegedly pregnant, fans have freaked out — as people usually do over a pregnant woman's body — about her personal choices. Fans are wondering if lip injections safe during pregnancy, and, shockingly, they might actually have cause to be worried.
First thing's first: the rumors that Kylie is pregnant are still just that — rumors. Kylie hasn't officially confirmed she's expecting, according to The Daily Mirror. If she isn't pregnant, then any sort of discussion over whether it's safe for her to have lip fillers while pregnant doesn't really apply yet.
Romper reached out to a representative for Kylie about her alleged pregnancy and her use of lip injections, but had not heard back as of publication.
But Kylie is staying "under the radar," and multiple sources confirmed last month that she's expecting her first child, according to PEOPLE. During a recent outing to Universal Studios' Halloween Horror Nights in Hollywood with her sister, Kendall Jenner, and their boyfriends and friends, Kylie concealed her belly "in a big hoodie and leggings," an onlooker said.
So, either Kylie is pregnant, and hiding it, or she's not, and she's very good at trying to convince her fans and the media that she is because she's a publicity pro. But if she is, those lip fillers she is known to receive might not be the best thing for her during a pregnancy (though its worth noting that I'm not a doctor and Kylie likely has a doctor she is consulting).
The effects of lip injections during a pregnancy haven't been studied, according to Insider. However, health risks are usually higher during pregnancy for most procedures, and lip fillers are probably no different.
Dr. Alan Matarasso, the president-elect of the American Society of Plastic Surgeons, said the first step is to read all labels on products before using anything during pregnancy, according to Insider. When it comes to injectables like the ones Kylie uses, Matarasso warned:
Most of these products tell you not to use [them] during pregnancy because you don't have studies on pregnant women where you inject them and find out if the baby was born OK. With a fetus, you have all the developmental issues and birth defects, what we call teratogenic, which is when an external environmental or drug effect the development of the fetus.
In particular, Kylie uses Juvéderm for her lips, according to The New York Times. She reportedly uses fillers that last two to four months. The Juvéderm label listed online states that "The safety of JUVÉDERM VOLUMA® XC injectable gel for use during pregnancy, or in women who are breastfeeding, has not been studied."
In a recent interview with Complex, Kylie said that before she got lip injections she was extremely self-conscious about her lips. She told the publication, "It has been an insecurity of mine all my life."
How Kylie, or any other person, deals with and confronts insecurities really isn't anyone's business, and she's entitled to make choices about her own body. But it's worth noting that pregnancy might make her lips look fuller without injections, according to OB-GYN Dr. Sheryl Ross. Ross told Insider that during pregnancy:
The mucous membranes throughout the body, especially in the face, enlarge and fill with increased blood and fluids. All parts of the face including lips, eyes, gums swell and enlarge.
So Kylie might get lucky and have plumper lips without lip fillers during her pregnancy. Again, if she is truly pregnant. Otherwise, the Keeping Up With The Kardashians star can keep getting lip injections to her heart's content — as long as it continues to be a safe procedure for her to have done, of course.
Watch Romper's new video series, Romper's Doula Diaries:
Check out the entire Romper's Doula Diaries series and other videos on Facebook and the Bustle app across Apple TV, Roku, and Amazon Fire TV.