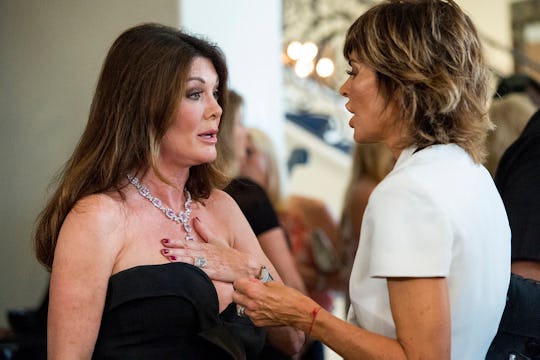 Nicole Weingart/Bravo
Lisa Rinna & Lisa Vanderpump Aren't On Great Terms
In a perfect world, two women with the same first name on a reality TV show could go off and get their own sitcom-like show with a clever title featuring their shared name and a still of them riding on a tandem bike. But this is real life and after all of the mess of Season 7, are Lisa Rinna and Lisa Vanderpump friends? The RHOBH stars both have strong personalities that make them top dogs, so in a way they'd be perfect as BFFs. But in another way, they'd butt heads far too much.
During Season 7, Lisa V. stuck up for Kim and Kyle Richards after Lisa R. started spreading rumors about Kim's sobriety, claiming that her sister Kyle was an enabler. Suffice to say, it left a bad taste in Lisa V.'s mouth. In the scene, she looked totally shocked and put off by the fact that Lisa R. had said so many negative things about Kim. It was the basis for one of the big prolonged fights of the season, so now that it's over, it's only natural to wonder if Lisa V. and Lisa R. are friends after RHOBH.
In her Feb. 8 Bravo blog entry, Lisa V. weighed in on all of the drama yet again and pointed her finger at Lisa R. as being the one to blame for it all, writing, "You observed LR's careless remarks to Eden. You then also see LR state that she is reluctant to talk about KIM. What utter hogwash. Kim's name is rarely far from her thoughts as we all interact with each other. Her actions have proven that."
In a clip for the final part of the RHOBH reunion, you see Lisa R. arguing with both Kim and Kyle yet again and Lisa V. sitting by silently, but the fact that she's still (literally) on Kim's side proves that she still stands by her. And in this case, if you're standing by one of them, you're kind of against the other.
Shortly after the Season 7 finale of RHOBH, Lisa V. did tweet that she has love for everyone on the show and obviously the drama with Lisa R. and Kim doesn't directly impact her, but clearly she still regards Lisa R. with some suspicion.
Lisa R., on the other hand, has tweeted about fellow cast members Erika Girardi and Eileen Davidson, but Lisa V.'s name has been absent from her social media accolades. With the typically calm and collected way Lisa V. is, it makes the most sense to see the two as cautious acquaintances who are still super suspicious of each other but don't want to test the other too much.