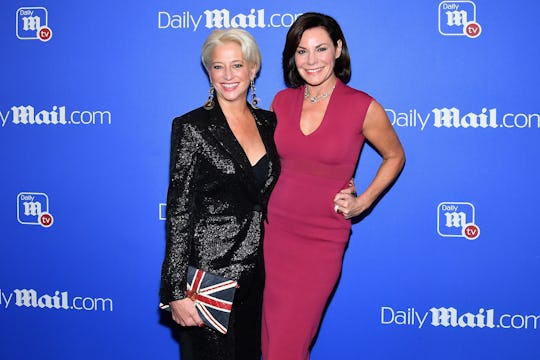 Slaven Vlasic/Getty Images Entertainment/Getty Images
Luann & Dorinda Had A Big Fight On 'RHONY'
The women of The Real Housewives of New York may have to stop going on vacation together for the sake of their friendships (just kidding, please don't stop). Their excursion to Cartagena, Colombia in Season 10 resulted in several blowups that may continue to be a problem once they return home. Luann and Dorinda's argument over dinner — and breakfast — was especially tough to watch. So are Luann and Dorinda still friends after RHONY, or was that fight the final straw?
Luann and Dorinda have always been really good friends. Dorinda was the one who introduced Luann to her ex-husband Tom; she was also the only member of the cast to attend their wedding, which she did as a bridesmaid. But that long history together didn't stop things from taking a turn in Colombia. After Luann made a comment about Dorinda's drinking, Dorinda felt judged; a huge argument ensued that ended in Luann walking out of the restaurant. The quarrel was reignited the next morning but both of them felt bad about it. Dorinda didn't want to hurt someone she cared so much about, but even though they reconciled it seemed like Dorinda might have been holding onto a hard feeling or two.
But it's a difficult to tell if Luann and Dorinda are still having trouble offscreen. Neither has much of a presence on the other's social media accounts. Luann also won't be attending the reunion, so they can't hash out any remaining issues before the season ends. Viewers may have to wait until next season to find out how they're doing, but there are some offscreen clues that could hint at the status of their friendship.
There seemed to be a little bit of drama when the episode aired that featured Dorinda and Bethenny's trip to Puerto Rico. In a blog post for Bravo, Luann wrote that "in an effort to appear relevant, Dorinda insulted Bethenny's partners after she drank too much." Dorinda seems especially sensitive to other people discussing her drinking, and she didn't take kindly to what Luann wrote. She responded on Twitter with the following:
Dear @CountessLuann are we to take advise from a pal who got so wasted she punched her then husband in the middle of a restaurant, followed by assaulting a law enforcement officer? Then Jail? You almost gotta love the complete lack of self awareness – [sic]
It wasn't totally clear that that was a direct response to what Luann had written, but the timing made it seem like a fair guess. But that was in May of this year. In July, Dorinda spoke to Bravo's The Daily Dish before filming the reunion, which Luann would be missing because she had checked into rehab again. Dorinda seemed genuinely upset over the whole situation, explaining, "I literally cried over it. I cried when I heard. I wrote her a text, a quick text, but I haven't heard back, so I'm just gonna pray for her, think about her. She's here in thought." She also mentioned that she felt "really bad" that Luann wouldn't be at the reunion.
While Dorinda's tweet could indicate that everything isn't entirely back to normal between her and Luann, it doesn't seem like their friendship is over. Dorinda still reached out to Luann when she was in a tough spot, though she didn't get a response. That might be a sign that even if their friendship is a little tense at the moment, they could still work things out. But that's par for the course on RHONY: these women may disagree a few times an episode, but they almost always manage to figure out a way to get past it and repair their friendships.